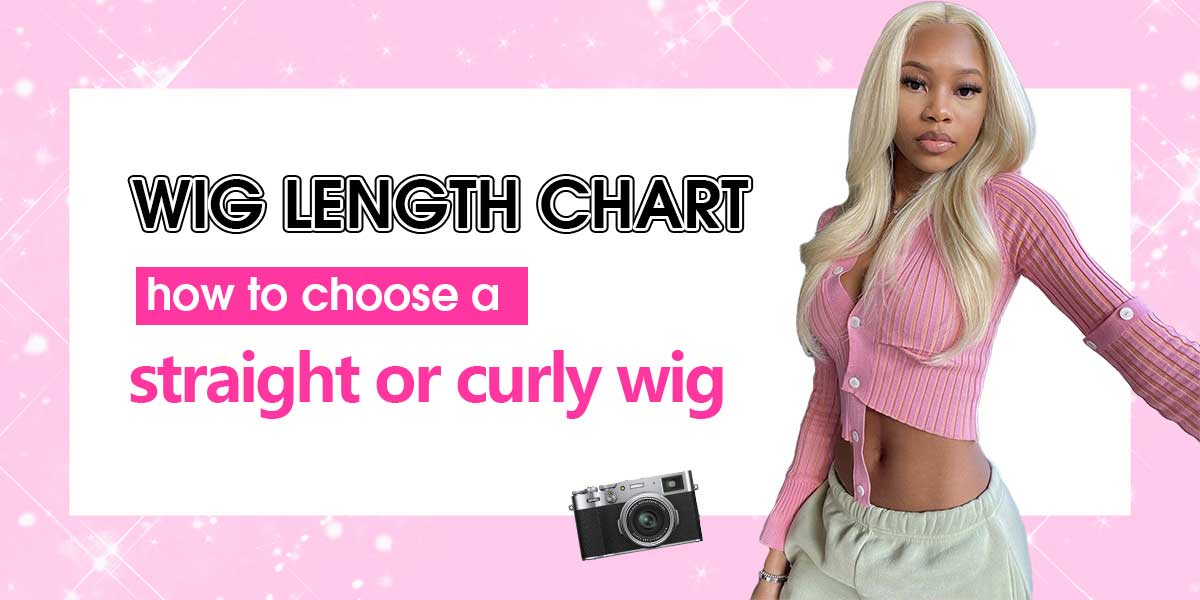 A wig length chart is a detailed chart of all the wig lengths and length references. When we shop online, we often can't see the physical goods, you can get the most detailed wig length selection guidance from here, so that you clearly understand what kind of effect a wig can bring you.
What is
wig length chart

?

The wig lengths are a specification of a wig, just like density and color, which is the first thing we should pay attention to when buying a wig.

Everyone's hairstyle is unique, as everyone has their own preferred hair length that suits them. Therefore, the wig hair length can give you a completely different atmosphere, and we can also change the appearance of our hair through different adjustments.

The wig inches are generally from 10 inches to 32 inches, and the length specification is generally even. This is the basic knowledge you need to know when buying a human hair wig, which will help you better choose the right length for your wig.
Wig length chart
A wig length chart can give you the most intuitive feeling to learn the wig length. in this chart, you can see the length chart straight, curly wig length chart, and wavy length chart.
If you are looking to buy a wig and are agonizing over what length to choose, you will have two options: 1. You can go directly to the Internet to search for the same style, find the hairstyle you like, and then buy the same length wig. 2. You can refer to the "wig length chart" above to determine the length you want.
It is important to note that the effect of the same size of the straight wig and the curly wig is different, and the length you buy is the length of the natural hair itself, not the length after processing. For example, if you want to buy shoulder-length hair, choose 12 inches for straight hair, 14 inches for wave hair, and 16 inches for curly hair. Three kinds of wigs of this length, worn on the head have the same effect.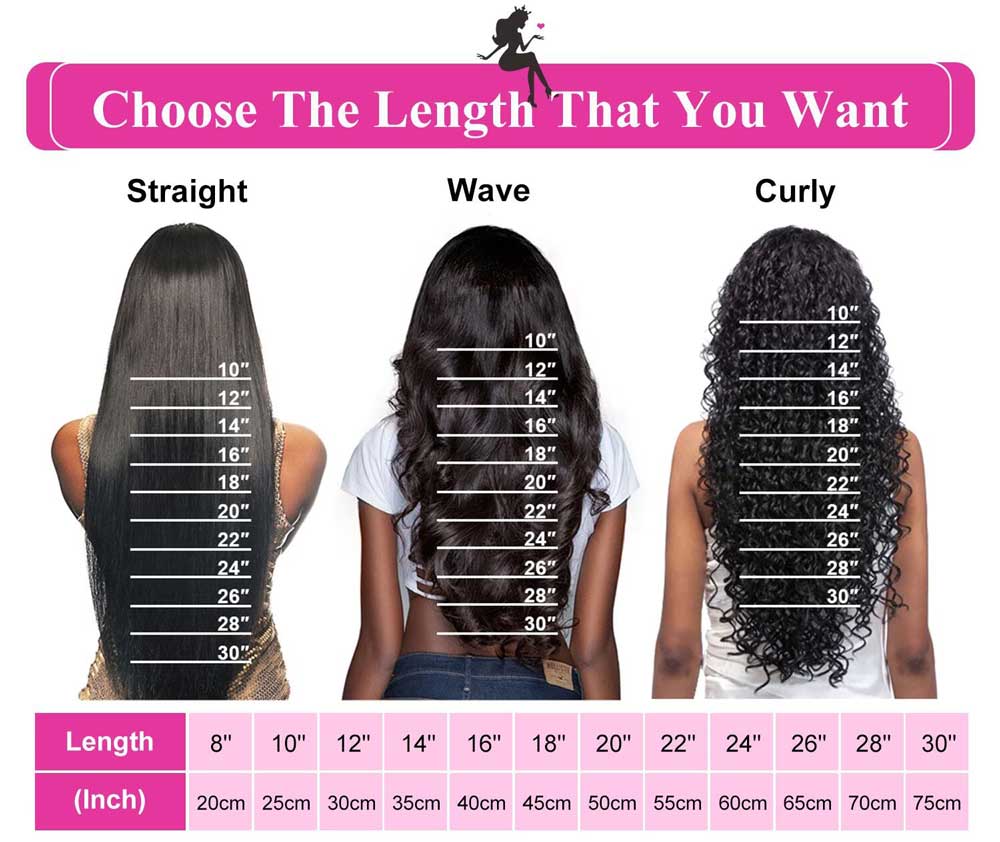 8-inch wig length
This is almost the hair size of the shortest wig, suitable for girls who like short hair and a cool feeling, if you feel that long hair is too troublesome to take care of, then choose it. If 8in isn't short enough for you, you can also opt for this year's super-hot pixie cut curly bob wig.
Bob wig length (10-16 inches wig)
A Bob wig is a classic look, and it's usually between 10 and 16 inches long. The 10-inch model can create a short Bob, and the 16-inch model has a long Bob. A 10-inch wig is generally what we see as short hair, while a 16-inch wig is almost medium-long hair. So, if you're going for a Bob, choose a length between 10 and 16 inches.
18-inch wig length
The 18-inch wig is the shortest long hairstyle except for the bob hairstyle. If you are a girl who does not like to care for wigs, then you may be suitable for the length of the wig is not very long, the 18-inch wig is very easy to care for and can make you look clean and neat.
20-inch wig length
Straight hair at 20 inches is considered long, but curly hair at 20 inches is shorter. When buying a wig, be sure to look at the length and texture, so as not to achieve your expected effect.
24-inch wig length
The 24-inch hair is the most popular choice in addition to the 26-inch hair, and not only can it give you the perfect long hairstyle, but this wig is very easy to maintain, you don't have to worry about it will easily knot or tangle.
26-inch wig length
The 26-inch wig is a super long wig hairstyle that is the size chosen by most girls who want long hair. The 26-inch-long hair has reached the length of the waist and is a perfect photo, hang-style, he can help you create a very perfect long hairstyle, and let your hair shine in the crowd.
28-32inch wig length
Not many people opt for 28, 30, and 32 inches of wig length. Not everyone has inches of hair like this, and the longer your hair is, the messier it is. You need to keep it neat and tidy at all times.
Wig hair length chart

for different hair textures

Straight, wave, and curly wig length difference is still very large, so be sure to look at the wig length when buying a wig.
Wig length chart straight:
10-inch straight hair is above the shoulder, and 30-inch wigs can reach below the waist.
Wig length chart body wave

:

The 10-inch wave wig reaches your ear, and the 30-inch wig reaches your waist.
Curly wig length chart:
curly 10inch wigs reach your eyes and 30inch wigs reach above your waist.
How to measure the length of a wig?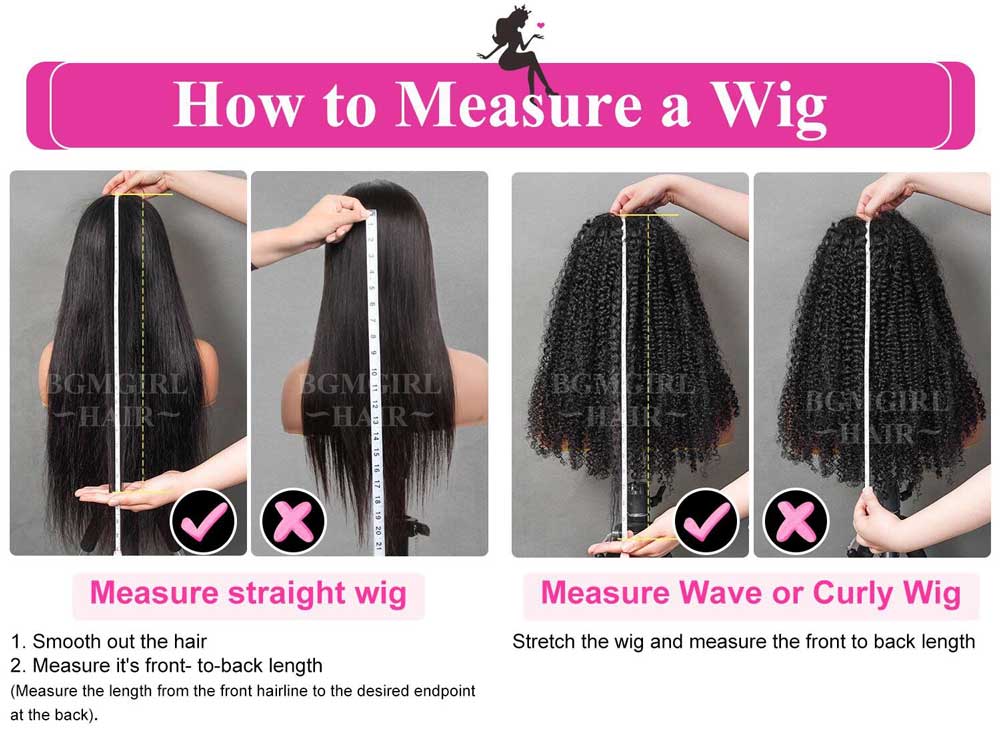 Measure straight wig
1. Smooth out the hair
2. Measure its front-to-back length, measure the length from the front hairline to the desired endpoint of the back.
Measure wave or curly wig
Stretch the wig and measure the front-to-back length
How do I choose the most appropriate wig length?
-Wig length
If you want a trendy bob, cut it short. If you want to look luxurious and attractive, keep your hair long. However, keep in mind that the longer the wig, the more expensive it will be.
-Wig texture
Curly or wavy hair naturally shrinks. Therefore, if you want long curls, choose a length a few centimeters longer than the wig.
-Face shape
Your face shape is an important consideration when choosing the length of your wig. If you have an oval face, you can wear a wig of any length. On the other hand, people with round faces look more beautiful with long hair. If you have a rectangular face shape, short hairstyles are best for you.
-Body shape
Tall and thin women should wear a wig over medium-length hair. This will make you look more feminine. If you are short, you should choose a bob as it looks better than wigs or long hair.
---
Final words
A wig length chart will help you choose a wig more quickly and accurately, it'll keep you from getting sidetracked. Choose a wig in BGMgirl now, according to the wig length chart.
Reading Recommendations
■ How Long Does A Quick Weave Last And How To Do It