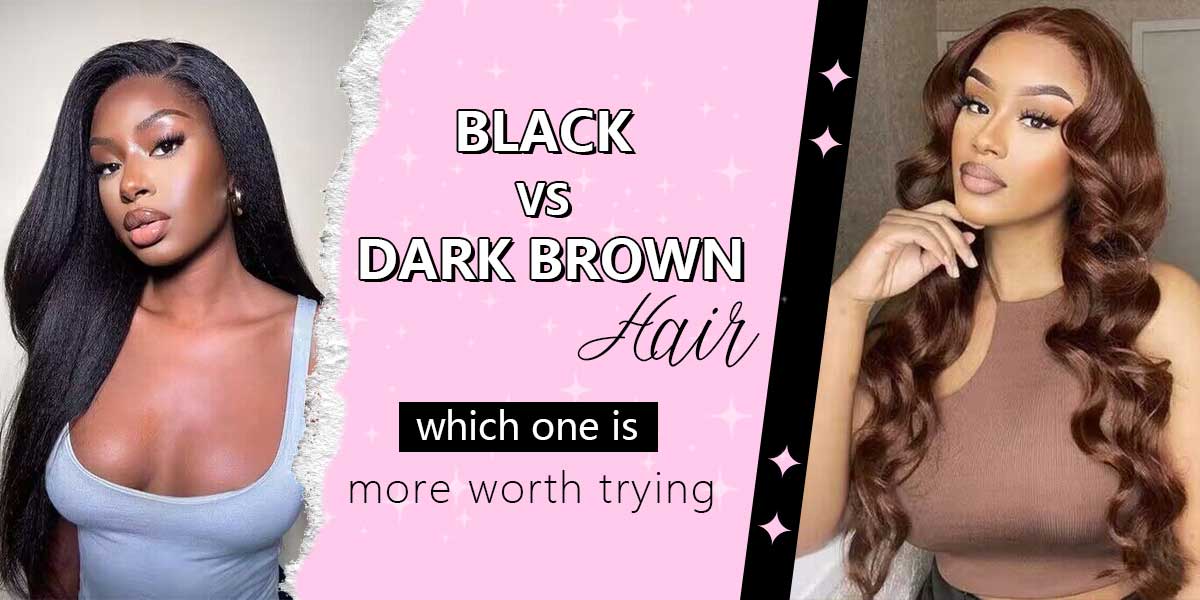 Black vs dark brown hair are both very everyday colors, so which one is more worth trying? Black is closer to our natural hair, dark brown can give you a more unique feeling, their colors are very close, so you may also have some difficulties in choosing. Let's take a look at these two wigs.
What is black color hair?
The number of the black color human hair wig is 1b, it is a natural black, compared to jet black, this color can be well combined with your natural hair, it looks very natural as if it grew out of your head.
What is brown color hair?
#2 Dark brown is a color similar to black, but with a little more flavor than black, giving your hair a unique look. There are many categories of brown, and BGMgirl has more colors for you to choose from:
How to choose black vs brown hair?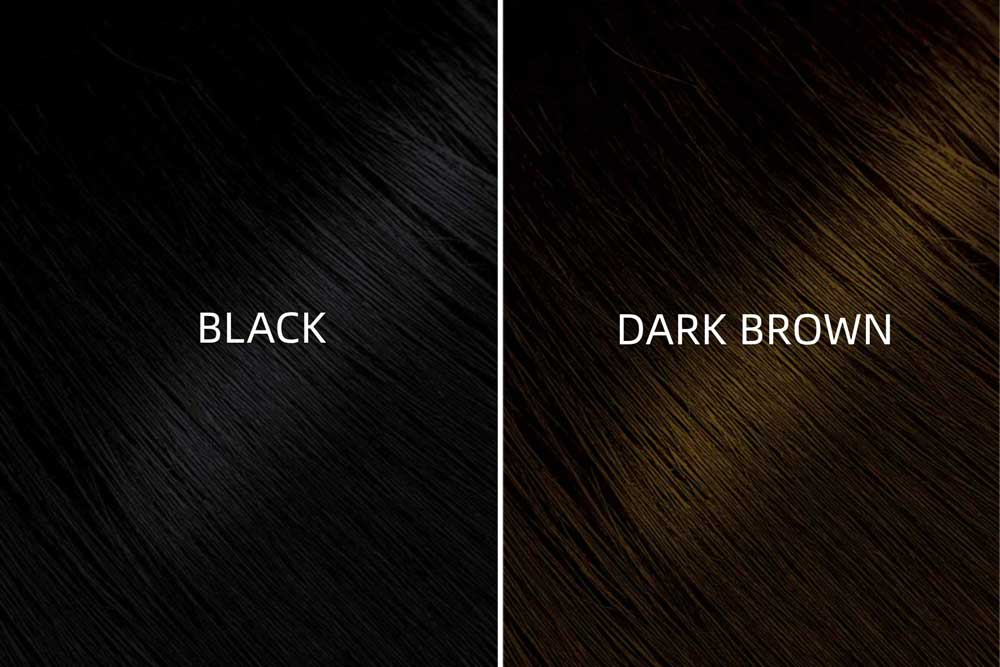 Dark brown vs black hair has its own advantages and characteristics. It is a dark wig of a similar color, which is more suitable for daily wear. Understatement can also help improve your appearance and make your hair look very healthy. So, dark brown hair vs black, which is worth trying? You can choose from the following tips:
1. Consider your natural hair color:
If you choose to wear a wig because of a hair health issue, such as hair loss, or loss of volume, or to hide grey hair, in this case, you can choose a wig that is close to your natural hair color, and the closer the better.
You can observe what color your natural hair color is outside in the sun, if it is jet black, choose black, if it is yellow, choose dark brown. Do not observe indoors, this will lead to a large error because most people's hair is black indoors.
There are many advantages to choosing a human hair wig color that is close to your natural hair: 1. It can make it unnoticeable that you are wearing a wig, and if you are wearing a different color, your colleagues or friends will be able to easily tell that you are wearing a wig. 2. Can greatly improve your hairstyle, so that you have good hair quality and healthy hair. 3. Can make you have confidence; a good appearance can put you have a good mood.
2. Consider the color of your skin
In brown hair vs black, black is whiter and more flattering to skin tone. You can determine which color of wig is best for you based on your skin color.
Determine whether your skin color is warm or cool, generally speaking, warm colors are more suitable for black, cold colors are more suitable for brown. So how do you accurately judge your skin tone? You can look at your wrist, look at the blood vessels, if the blood vessels are blue, it means you are warm, better for black, if your blood vessels are cyan, then you are cool skin, black and brown hair is good for you.
3. Consider your daily style
When choosing a hairstyle, you have to consider your daily style, hair, and hair color must match your dress or accessories to be more beautiful, if you get the wrong color, your overall appearance will become very bad.
So, when choosing black vs brown hair, you can refer to the following points:
If your style is cool, then your hair must be dark, the darker the better. 1b Black is a good choice. If your style is sweet and gentle, a black wig may be a little stiff for you, and a gentle brown wig may be more suitable for you.
4. Consider your age
When buying a wig, you need to consider your age. Older women should try to avoid too bright colored wigs or strange wigs when choosing wigs because it will make them look older, and choosing dark wigs that are more suitable for daily life is the right choice.
But black vs dark brown hair is suitable for women of all ages, so if you want to choose these two colors of wigs, don't worry too much, they will definitely suit you.
Brown vs black hair: Which one is better?
With dark brown and black hair, it is very difficult to say which is better. Black hair can make the wig naturally fit with your natural hair, brown hair can make your skin appear more translucent. Therefore, whether it is black or brown hair, it can be a good choice for everyday hair color. This is because each person has their own tastes and preferences.
Some people find black hair more attractive, while others prefer brown hair. If you're looking for a versatile hair color that suits all skin tones, a black wig is usually the best choice.
However, if you have a warm skin tone and are looking for a hair color that looks good on you, a brown wig is the perfect choice.
If you are used to black hair and want to try a different hairstyle for a change, you can choose a brown wig.
Moreover, if you are a brunette and are looking for a hair color that suits you, a brown wig is an ideal choice.
Overall, there is no better hair color than black and brown. It all depends on your preferences and what you find more convenient.
No matter which hair color you choose, be it black or brown, you will definitely look great as both colors are beautiful and classy and will definitely enhance your beauty.
---
Final words
Black vs dark brown hair, which one suits you better? You can choose the color based on the experience mentioned above, or just choose the color you like. No matter what the color, it can bring you a brilliant effect.
---
Reading Recommendations
■ Wig Length Chart: How To Choose A Straight Or Curly Wig