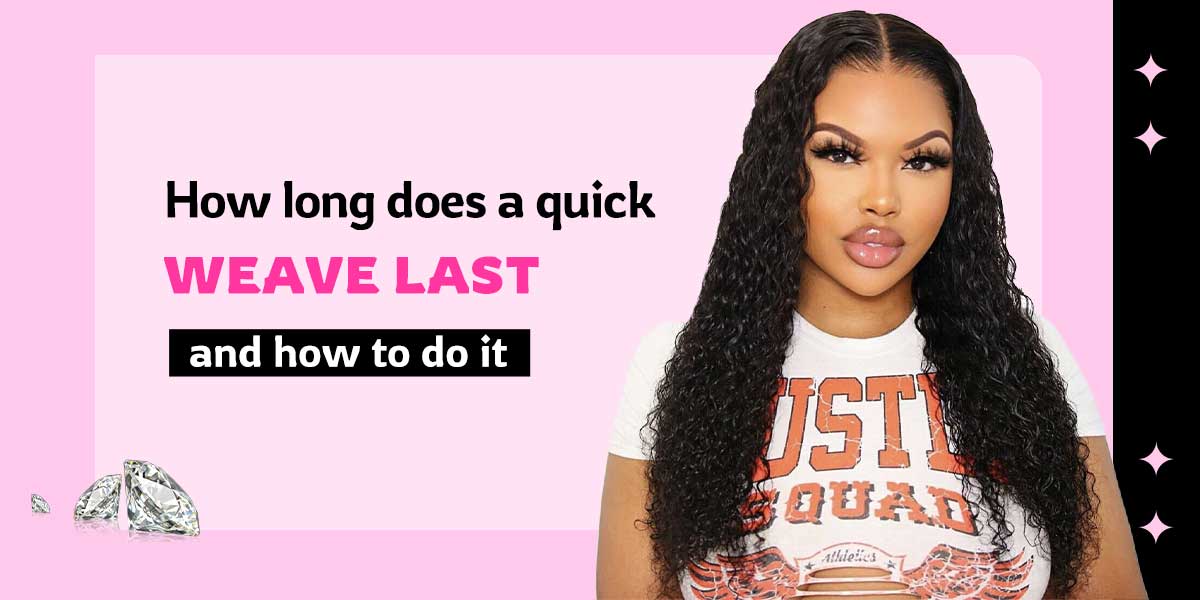 How long does a quick weave last? This must be a basic hair knowledge that most wig beginners want to know. A quick weave is a protective hairstyle that can make our hair not only extend length and change the hair texture but also protect our natural hair. The methods of getting this hairstyle are also very easy, let's learn about this hairstyle together.
What is a glue in quick weave
Glue in quick weave is a wig extension hairstyle that adds the hair bundles use glue on the wig cap to make a wig by yourself. This approach will be relatively cheaper than the finished human hair wig, and you can buy the same wig at the same price, but the process of making the wig requires you to do it yourself, which is equivalent to buying a set of wig materials.
How long does a quick weave last?
Commonly, the last time of the quick weave is 4-5 weeks. The exact last time is determined by a number of factors.
1. The quality of the bundles: The quality of bundles is one of the important factors affecting the duration of quick weave. If you have the misfortune to buy an inferior wig product, such as adulterated with a certain percentage of synthetic hair, then its effect must be not as good as a 100% human hair wig. If you want a quick weave to last longer and look better, be sure to opt for high-quality human hair.
2. The glue you use to make quick weave: as we all know; the quick weave is made of wig caps and hair bundles. Compared with the traditional sew-in hair extensions, this quick weave can be directly pasted with glue, eliminating some complex sewing skills and processes, which are very convenient and fast. If you choose a waterproof strong adhesive glue, quick weave will last four to five weeks or more. If you are using regular glue, the duration will be shortened accordingly.
3. The making process of quick weave: the installation method of quick weaving also affects its service life. If the glue is applied properly, and firm, and the paste is flat and smooth, it is more likely to last longer.
4. Maintenance timely: Proper maintenance and care are crucial to the life of a quick weave. Washing and conditioning your hair regularly and helping to hydrate the hair can help extend the life of quick weave.
5. Daily activities: Your lifestyle and daily activities will affect the durability of the quick weave. Excessive sweating, swimming, or strenuous exercise may shorten their lives.
6. Hair growth: As hair grows naturally, the bond between glue and hair weakens. This can cause the fabric to loosen quickly, which shortens its service life.
7. Hair care procedures: If you neglect proper hair care, such as not washing or conditioning your hair regularly, it can lead to product buildup or potential damage, which can shorten the service life of a quick braid.
Keep in mind that these are general factors that can affect the longevity of a quick weave. Take good care of your quick weave, listen to your hair's needs, and make sure it's as long as possible.
How to do glue in quick weave
1. Wash your natural hair: Wash and condition your natural hair first to make sure it is clean and moisturized. Untie thoroughly to remove any knots or tangles.
2. Protect your natural hair: Apply a conditioner or heat protectant to your natural hair to create a barrier between the adhesive and your hair. This helps prevent damage or breakage.
3. Wear a wig cap: Wear a wig cap that matches your scalp color. Adjust it to fit your head and make sure it covers all of your natural hair.
4. Use adhesive: Apply adhesive around the wig cap. Apply the adhesive evenly with a brush or your fingers. Make sure you leave some room for the tracks.
5. Position the track: First place the track on the adhesive, starting from the bottom and working upward. Press the tracks firmly against the adhesive to make sure they are secure.
6. Blend tracks: When you use tracks, make sure they blend with your natural hair. Use a comb or your fingers to gently blend the weave with your own hair to make it look seamless.
7. Design your quick weave: Once the tracks are all in place, you can design the quick weave you want. This can include curling, straightening, or adding any other desired hair accessories.
How to maintain a quick weave
-Lay your natural hair as flat as possible. Smooth everything with a brush. Secure everything with hairspray or gel and make sure it's firmly in place.
-Avoid heat damage by not straightening your hair every day. Try to minimize heat use and use heat protection products.
-Be careful not to get the roots wet when showering. The adhesive may peel off. Be careful when weaving quickly. Do not pull or pull forcibly as this may cause damage.
-Clean your hair with shampoo and conditioner and wash thoroughly. Use lukewarm or as cold water as possible to avoid staining the adhesive.
-If you need to easily remove tissue, there are many ways to do it. Some people use conditioner, but some people prefer to use oil to help remove the adhesive. Carefully remove the adhesive using a comb.
---
Final words
Good human Hair products are the prerequisite for the perfect quick weave hairstyle, welcome to BGMgirl Hair to buy high-quality human hair products.
Reading recommendations
■ How Many Packs Of Hair For Jumbo Knotless Braids? Style And Maintain Tips