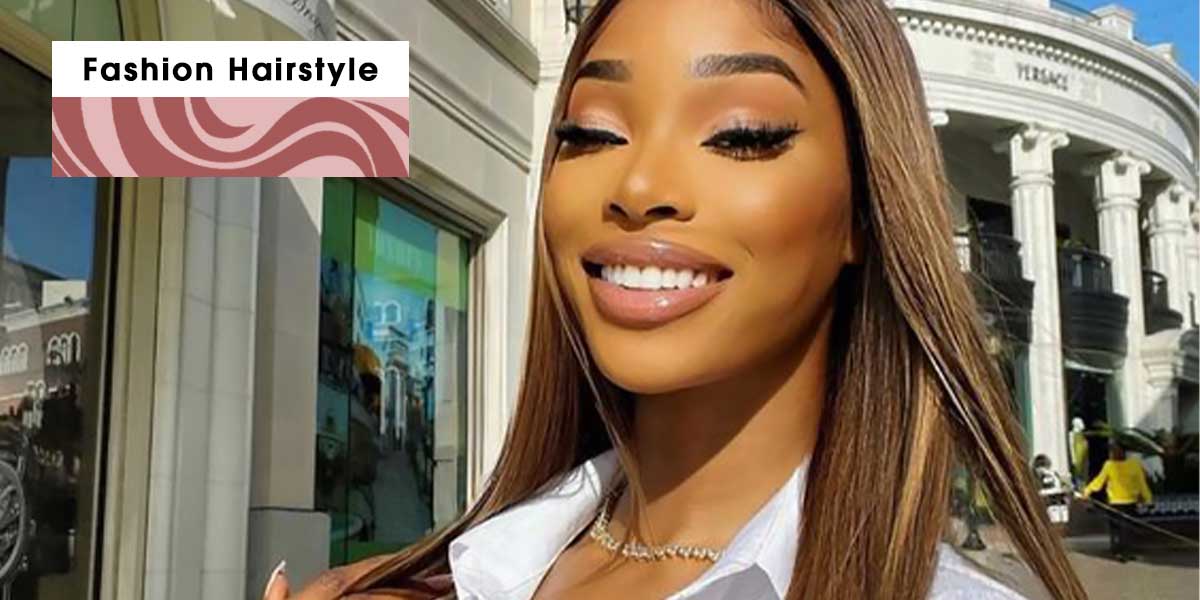 Colorful wigs are always hard to try, especially for the wig beginner. In this cases, you can choose the understated colored lace front wigs that normally has a low-key color and not excessively vivid and bright. There also many colorful wigs that suit for our daily life, such as brown, strawberry blonde, burgundy, and so on.
Why the colored lace front wigs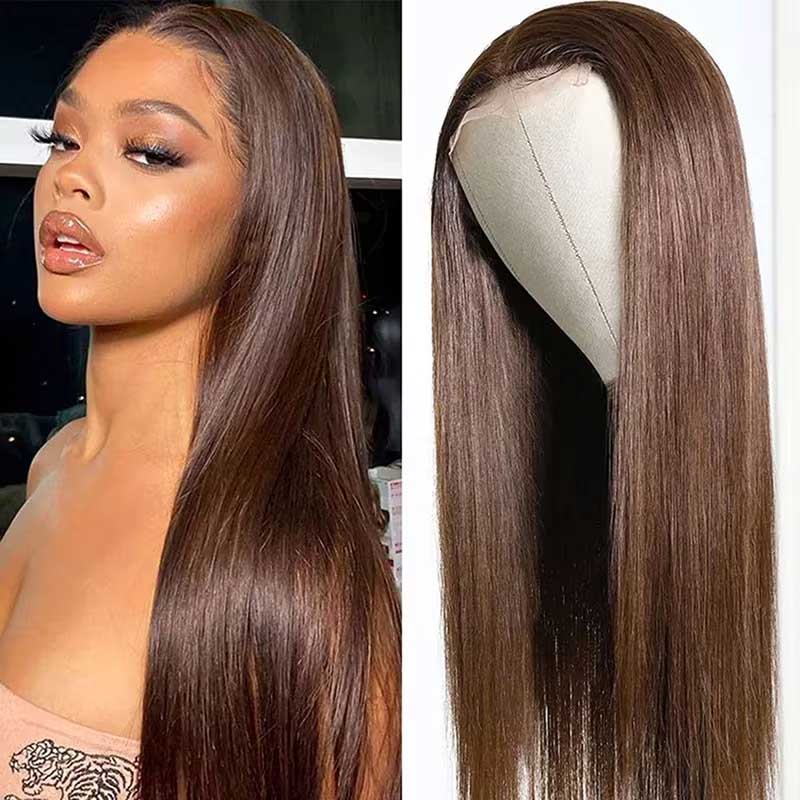 1. Change our immutable outlook: It is boring that we wear the same clothes and stay a immutable hairstyle and hair color. Make some changes of your hair by wearing a wig in sometime will definitely give you a brand-new look and impress others.
2. Make you look good: If you always keep the same hairstyle and hair color and not do any changes on them, you will tend to come across as lazy and sloppy. Make some changes can let you looks good and you just need to spend several minutes on it.
3. Have a good mood: Different hairstyle will give you the different mood. When you in the front of the mirror, looks you have a bright and different hair color, you will see how beautiful you are and you will realize a different version of yourself.
4. Cheap and long service: The cost of colorful wigs is relatively low, compared to going to the barber's and getting your hair dyed and styled. Only need 100 dollars and you will get a wig that with you appreciate color and textures that can be wear for 1 or 2 years, do not need to worry about the risk that your barber won't be able to do the color you want.
5. Healthy and fast: By wearing a human hair wig, you don't need to cause harm to your natural hair and the scalp. That means your hair don't have to dry out, yellow, split ends. You can style easily even on a rushed morning.
Top 3 understated colored lace front wigs for wig beginner
1.Brown wig
Brown wig's color is so natural that you have already forget it is a colorful wig. Generally, we use brown wig as a daily hairstyle frequently, because the color of it is very likely to the black color. This color can be the most suitable color to the colored wig beginners, the dark color tone and the low-key hairstyle can meet your need that wear it on daily life or commute. Brown wig has three types:
Light brown wig: Suit for the girl who has a warm skin tone. This color is brighter than normal brown color, if you want an understated colored lace front wig but also very bright, you can choose this one.
Dark brown wig: This color is relatively dark and it is very similar to black color wig. If you in outdoors, you will can't find out the different between brown color wig and the black color wig.
Light brown and dark brown highlight: If you want your hair color become more characteristic and feature, you can choose this one. Actually, highlight is a fashionable hairstyle, but don't worry, you can choose a light brown and dark brown highlight, this wig combined with two understated colors, so it is not made public and bright.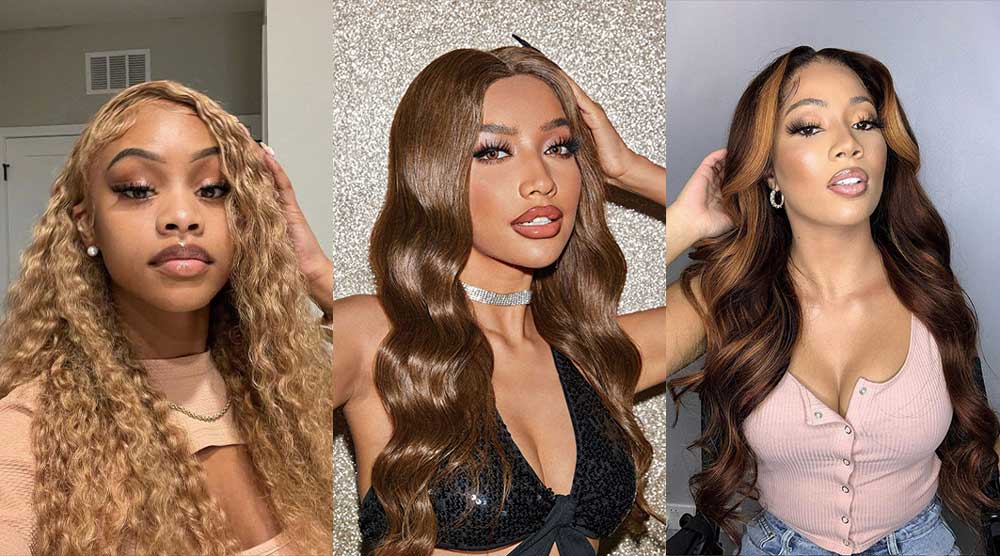 2.99J Burgundy wig
Burgundy lace front wig has a dark and low-key red wine color. The color of it is not obvious than red color, suit for the woman who is charming and has the temperature as intoxicating as red wine. Burgundy wigs are also an understated color that suit for daily wear. Burgundy human hair wig can give you a most natural wearing effect. There are two kinds of Burgundy wigs that are the hottest sellers here:
Burgundy bob wig: This short burgundy bob wig can better show your unique charm: Short hair is usually very sexy and charming. And because of the wig length, the price of the bob wig is lower than long hair. If you like short hair, this wig is worth trying.
Burgundy curly wig: Although the straight is very popular among most people, more people will still choose curly wig. Burgundy curly wig can be the most beautiful color of the curly wig. And the dress matching of this wig is easy. You can wear a black strapless skirt or just wear a black or white T-shirt.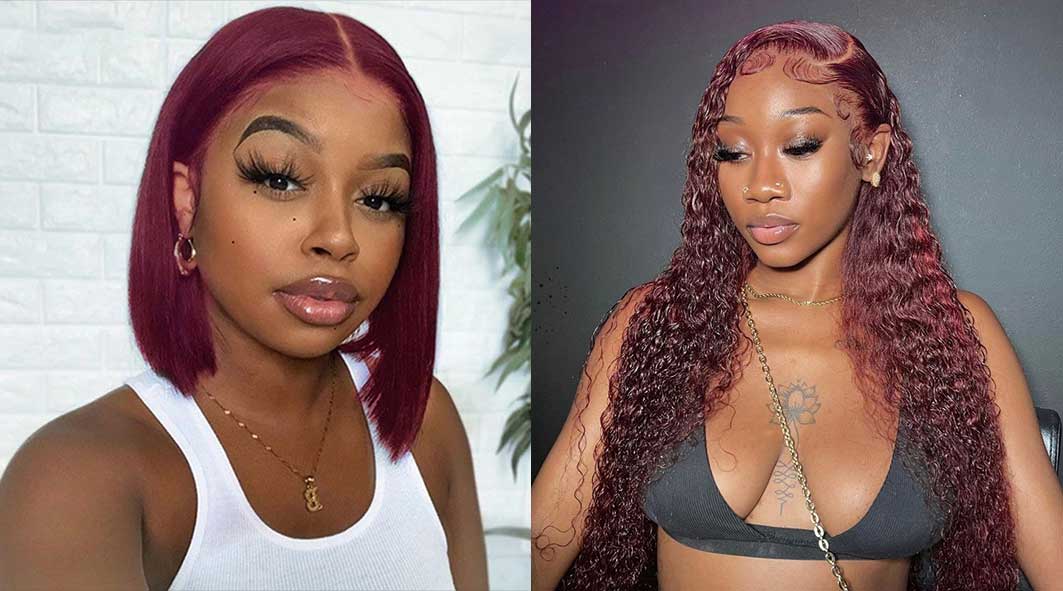 3. 613 blonde wig
Honey blonde wig can be a very bright and a color that highlights temperament. Blonde human hair wigs have the best hair quality and looks very silky and smooth. If you bleach your hair, dye your hair to a blonde color, your hair quality will become very worse and the hair can become very dry due to severe damage or loss of moisture. So, if you want to have a blonde hair, you'd better choose to wear a blonde lace front wig.
Blonde bob wig: This is a short blonde wig that suit for the woman who like bob hairstyle, you can change your outlook easily by wearing this wig.
Blonde wig with bangs: Wig with bangs suit for the girl that who has a long face and want to reshape it by changing the hairstyle. And you can choose a long straight hair with the bangs.
Long blonde wig: Suit for the girl that want a bright and long length hair wig, this can give you a fashionable look and also suit for our daily wear.
Black and blonde wig: This is a wig that combined with blonde and black, if you think the blonde wig is too obvious, you can choose this wig, the large area of the hair is black and only the front part of the wig is blonde, can create a low-key and understated loutlook.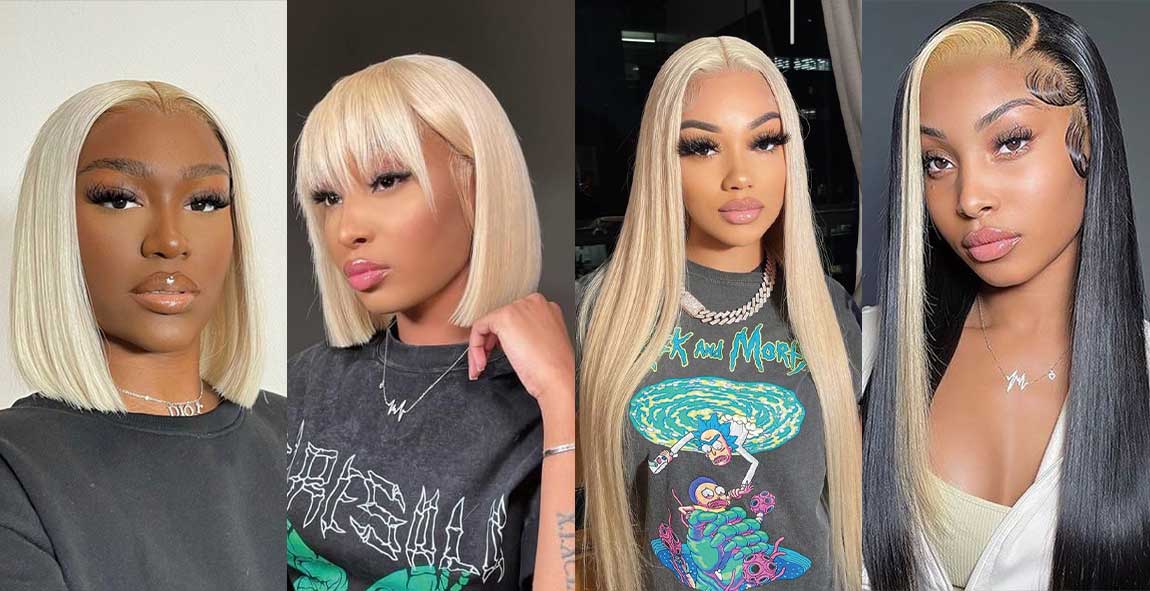 How to choose the right colored lace front wigs for you
To choose a colorful wig, you should consider your face shape, skin tone and height whatever elements that will influence the wearing effect on your body. So, if you want to create a gorgeous and beautiful look, you should think all about this.
If you don't know how to choose, you can buy these three wigs that I recommended today, the color of them is all-match and can suit for most of the people. If you want to have a colored wig, try it. Colored lace front wigs human hair can give you the best visual effect and because of its natural and understates color, you won't be embarrassed to walk down the street wearing a colorful wig.
---
Final words
These top 3 colored wigs can be the best colored wig for everyday wear, whether it is brown, blonde or Burgundy, they are relatively low-key colored wigs. So, you can go to the bgmgirl.com to choose the style and texture of the wig now.