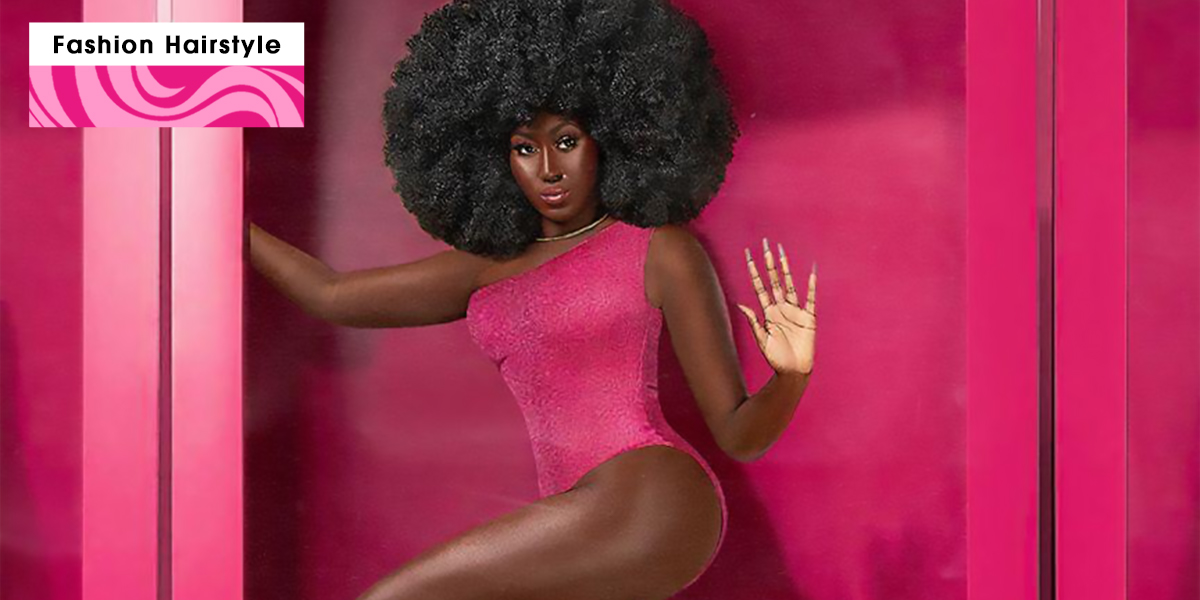 Barbie 2023 is out in theaters and pink has become a fashion trend now. As we all know, the favorite color of Barbie is pink, so let's get a Barbie hairstyle by using a colorful wig and dressing in a pink costume to see Barbie!
What is a Barbie hairstyle?
When it comes to Barbie, you will think about the color pink. Pink is the simple of Barbie, many people go to the theater in pink outfits and make a blonde or pink hairstyle. Pink color and Barbie have been hot on the internet in the last few days. And at the same time, colorful wigs have become very popular.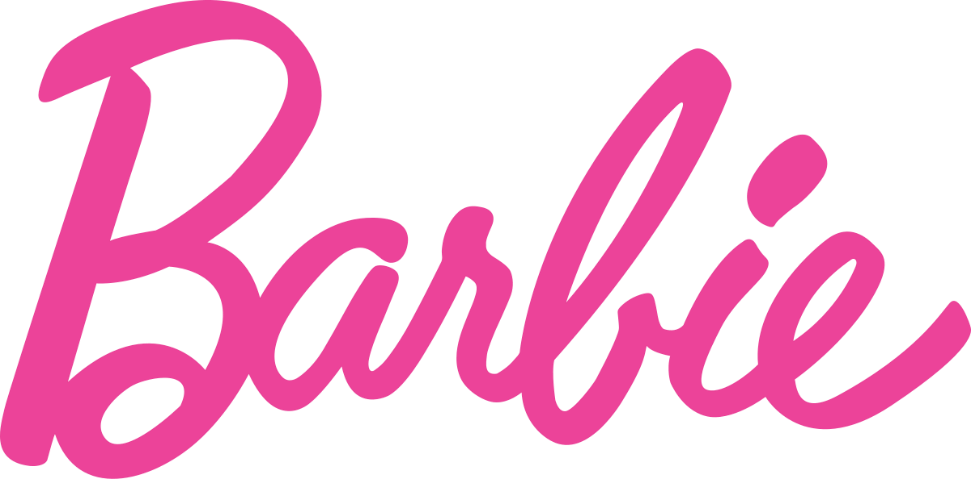 Barbie has many hairstyles, the most classic is blonde hair, besides, the pink, brown, and black afro curly is also very popular. People will choose these wigs to change their outlook. If you haven't dyed your hair, you can buy a colored wig to help you, this is the best way for you to change the outlook in a short time.
How can I get a Barbie hairstyle by wearing a wig
By wearing a wig, you can easily have a Barbie hairstyle. It can help you change your outlook quickly but also can protect your hair healthy. Now I will recommend several wigs that can help you get a Barbie hairstyle.
Blonde straight wig
This is the most classic hairstyle of Barbie, most of the time barbie will stay in this outlook. If you want to get this one, just buy a blonde straight wig, by using the easiest style to create a most classic outfit. We have blonde lace frontal glued wig blonde straight glueless wig for your choice. In the hot summer, you should wear the wig and go to the theater, I personally recommend the glueless wig, which can give you the most breathable and comfortable experience, and make you feel nothing of the wig when you're out shopping.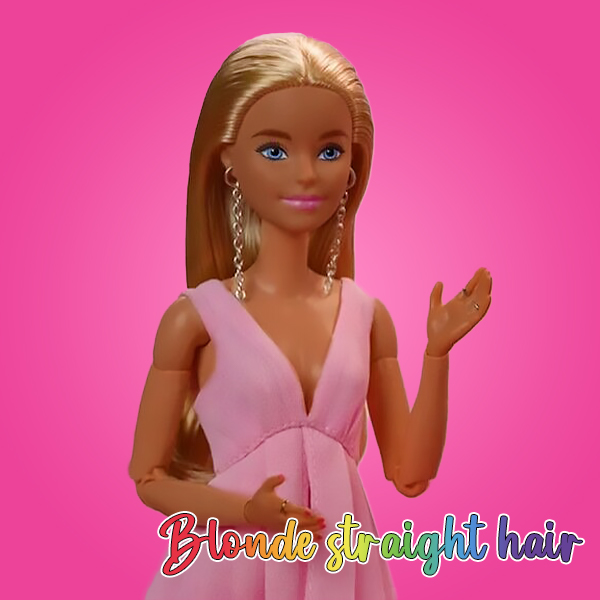 Afro curly wig
Barbie's hair is rarely black, but this black afro curly hairstyle is also very classic. The long hair combined with the real human afro curly hair can be very natural and can largely enhance your temperament. Black color hair matches a pink dress, you will be the most outstanding one in the theater. If you want, you can braid the wig hair to make a new fashion hairstyle.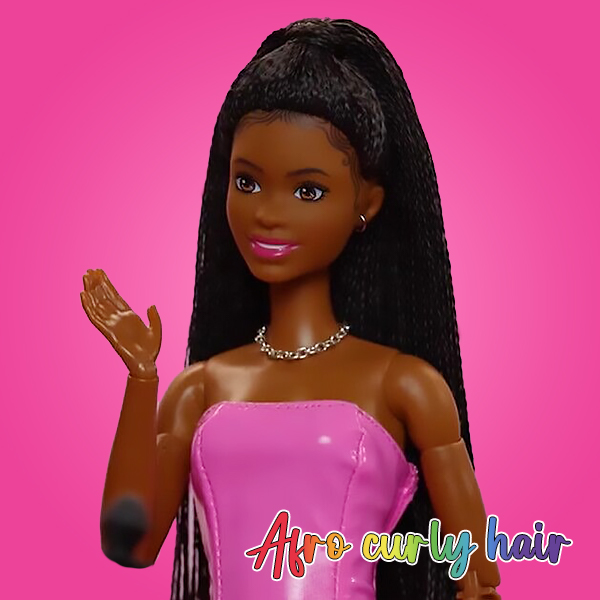 Blonde body wave wig
Body wave are always the gentlest hairstyle, if you are hesitant about what hairstyle you should choose, this one will never disappoint you. This hairstyle is perfect for events, weddings, and banquets, and you can see that Barbie chose this hairstyle for the most classic event scene. The long blonde hair with a body wave hairstyle, makes you become gentle and elegant instantly.
Pink wig
Pink is Barbie's favorite color; you can choose this color wig with a pink dress to create a super fashionable pink outfit. Pink always gives people a lively and young feeling, to make you feel like you are a girl and not an old woman. It can take you back to your childhood and remind you of the good old days when you were still playing with Barbies. Barbie was with us all the way up, and now we see her in the theater, waking up our sleepy childhood.
Water wave wig
This is a hairstyle that is very suitable for the black girl. This classic hair texture can be the girl's first choice when they choose a wig.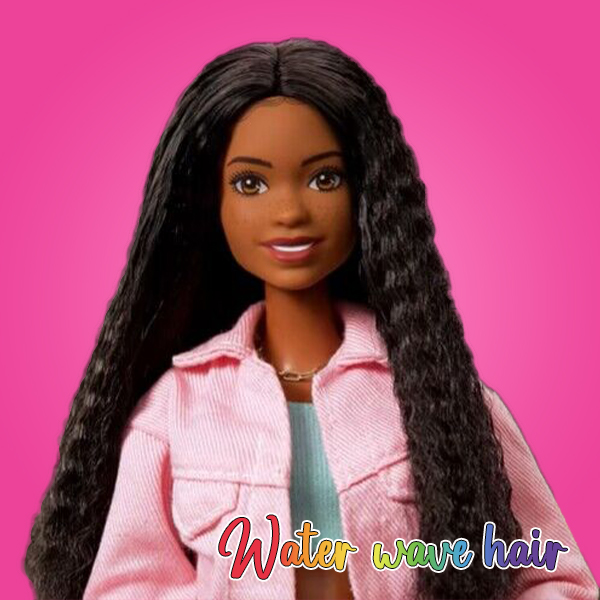 Blonde bob wig
Bob hairstyle is not very popular with Barbie because she always stays in long hair just like a princess. But the bob wig is also very lovely and lively, and it's a hairstyle that is super suitable for hot summer. if you are a person who is easy to sweat, a blonde bob wig is your best choice.
Get a 90s hairstyle with Barbie
Barbie ponytail: Put all your hair on the top and tie them using a rubber scrunchie, and then take out some hair to entangle the ponytail to cover the rubber scrunchie.
Butterfly clips: Let your wig in the middle part and then use some cute butterfly clips to embellish the hair.
Scrunchie: Half of your hair loose, half of your hair tied up, make it a little higher, and tied it up with a pink scrunchie.
Crimped waves: You can use a straight or water wave wig to create this hairstyle, and use some bobby pins to make an easy change.
You can get all these lovely hairstyles by using a blonde wig, and it will not cost you a lot of money. You can try it at home! Just put on your colored wig and get the same hairstyle as Barbie.
---
Final words
Barbie hairstyle has become a new trend among girls, whether the blonde wig or the black curly wig is worth to trying, if you haven't chosen a beautiful wig that suits you, welcome to bgmgirl.com.