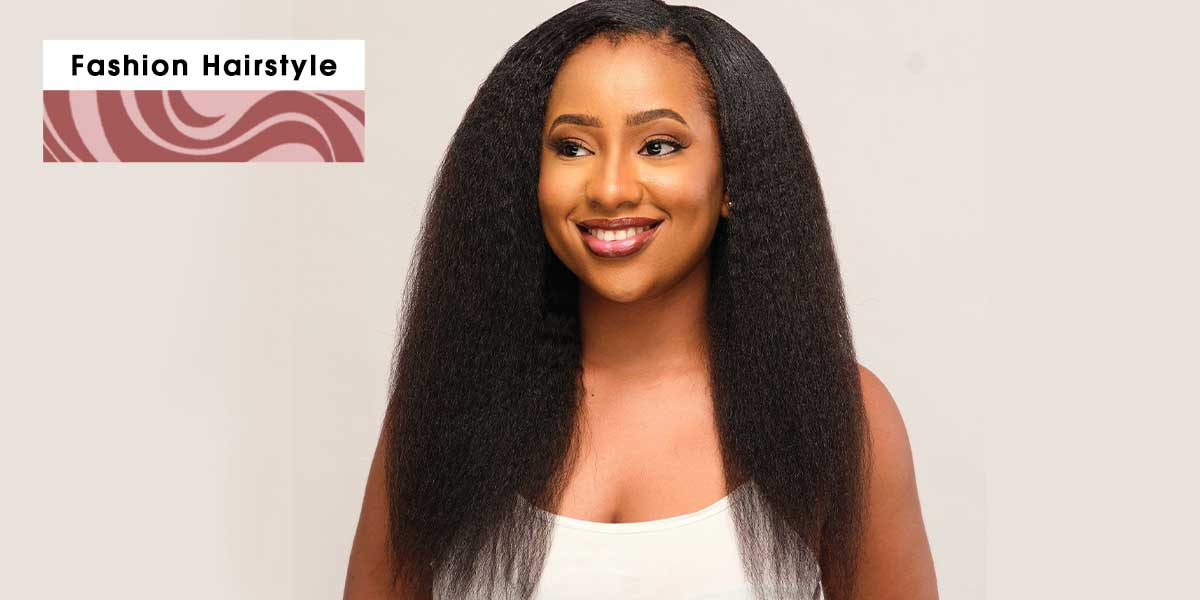 In fact, most people buy wigs for daily wear, so it is necessary to buy wigs that suit their style and shape. Bright colors and dramatic styling may make you look great in front of others, but if you're looking for a wig that you can wear every day and go with everything, this is the Kinky Straight Glueless Wig.
Contents
1.What is a Kinky Straight Glueless Wig
2.Should I get a curly or straight wig?
3.How to choose a Kinky Straight Glueless Wig
4.How to maintain your kinky straight hair?
5.Final words
What is a Kinky Straight Glueless Wig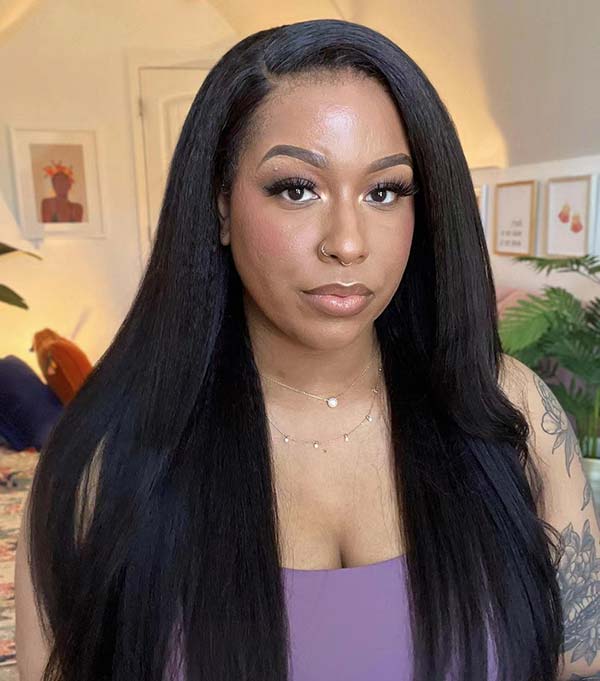 There are two kinds of straight hair wig, straight and kinky straight. Straight is a kind of soft, smooth hair type, which looks like being straightened by Hair Straightener. Due to high temperature processing, this kind of hair will appear particularly shiny, and the overall surface of the hair is transparent, giving people a good feeling of hair quality. Kinky straight is a kind of straight hair, but it has a certain degree of curl. This curl is more like the arc of an electric shock, the overall is not smooth, the surface of the shine will be less than normal straight hair. But the good thing about this hair is that it has volume, which highlights healthy, plump hair. In contrast, the kinky straight wig is designed to hold the top of your head higher.
The kinky straight glueless wig is also a type of glueless wig that with pre plucked natural hairline and pre-cut the extra lace to fit properly into our scalp. There is no need for glue or any other processing when wearing, and the whole wearing process can be completed within 3 seconds. It is therefore the most suitable wig for beginners. As a beginner, you may not know the process of wearing a wig, what parts a wig is made of, and how to preserve and care for it. While none of this is a problem for the kinky straight glueless wig, you just need to order it and take it home, because it's as easy to wear as putting on a hat.
Should I get a curly or straight wig?
If you're asking me which human hair wig is more attractive, the answer is curls. If you're looking for a natural looking wig that's easy to manage, a straight wig might be a good choice. These hairstyles are more like our natural hair, and the reason we wear them is less to make us attractive and more to cover our original hair. Because you may have thinning hair, bald hair and other issues, then choose this wig for everyday wear. If you want a stylish and attractive wig, a curly wig might be a better choice. But remember, whatever your needs and preferences, there is a wig out there that will suit you.
How to choose a Kinky Straight Glueless Wig
Wig Color
The color of kinky straight is usually natural black, because it focuses on real and natural hair, not bright colors. The curls of kinky straight hair are unique, too bright a color can look frizzy. So, choose natural black color, it's a color that goes with everything.
Hair Density
The word "density" refers to the thickness and density of the wig hair. Listed as a percentage, the larger the number, the thicker and denser the wig. Our kinky straight wigs come in 150%, 180%, and 200% densities. You can choose according to your preference and what kind of effect you want to achieve. For a truly natural wig, make sure your lace wig is not too thin. A wig that is too thin will not only look bad, it will not cover your existing hair, and it will look worse than your own hair. To avoid this problem, it is best to choose a wig with a high density. But not too tall. Looking good and being natural are the most important. The density of a high-density wig is generally between 180-250%, and you can choose as you like.
Hair Length
While the length of your hair can have a big impact on the look of your style, it doesn't have a big impact on how natural it is. Everyone has a different hair length preference, which may be related to personality, dress style and makeup match. One thing to note, though, is that if you're going for short hair, try to get as dense as possible. If you choose long hair, the density should be minimized so that the wig will look coordinated.
Face Shape
Here are some common face shapes and recommended hairstyles that work best for them:
Long face: Bouffant, long hair, bushy bangs
Oval shape: According to different clothing and makeup can be adapted to any style.
Round: Wavy, Bob or longer, be careful not to choose a hairstyle with bangs
Square: A hairstyle with wavy or bangs
Diamond: Short or long Bob
How to maintain your kinky straight hair?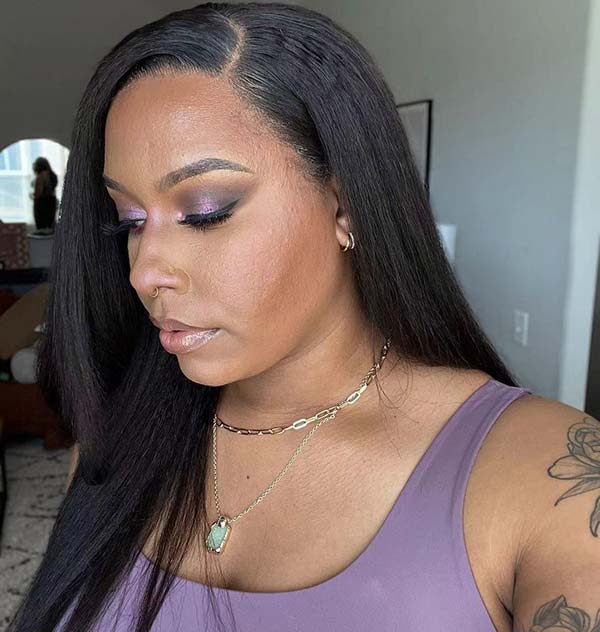 Use a comb to untangle the wig before putting it on, after putting it on, and before cleaning it to make sure there are no knots. If you stick to this procedure, wigs are not easy to wear out and can generally be worn for one to two years. Therefore, untangling the hair is the key to prolong the life of the wig. In daily wear, only need to gently comb with the hand. Use a comb every once in a while. For heavily matted hair, you can use conditioner and carefully untangle your hair. After cleaning the wig, dry it on a towel instead of using a hair dryer, which will only make the knots worse.
Use the right hair products, be sure to be gentle and not cause too much irritation to the hair. You don't have to wash your wig too often, which can aggravate wear and tear. Now most people choose glueless wigs, so there is no need for frequent cleaning, generally one to two months to clean once is enough.
---
Final words
Kinky Straight Wig is absolutely the ultimate everyday wig. It goes with everything, so you don't have to worry about what outfit to wear with your hair or what makeup to wear every day. Because it's a basic classic wig. Even if you don't wear makeup, you can pull it off perfectly because it's as natural and real as your own hair. Its texture is simple, you don't have to worry about choosing a wig, and it's easy to care for. You just wash it like you would your own hair, without much care. It's not like other wigs where you have to worry about whether the roll is going to deform, whether the color is going to fade. So, this is definitely the best choice for your daily wear.