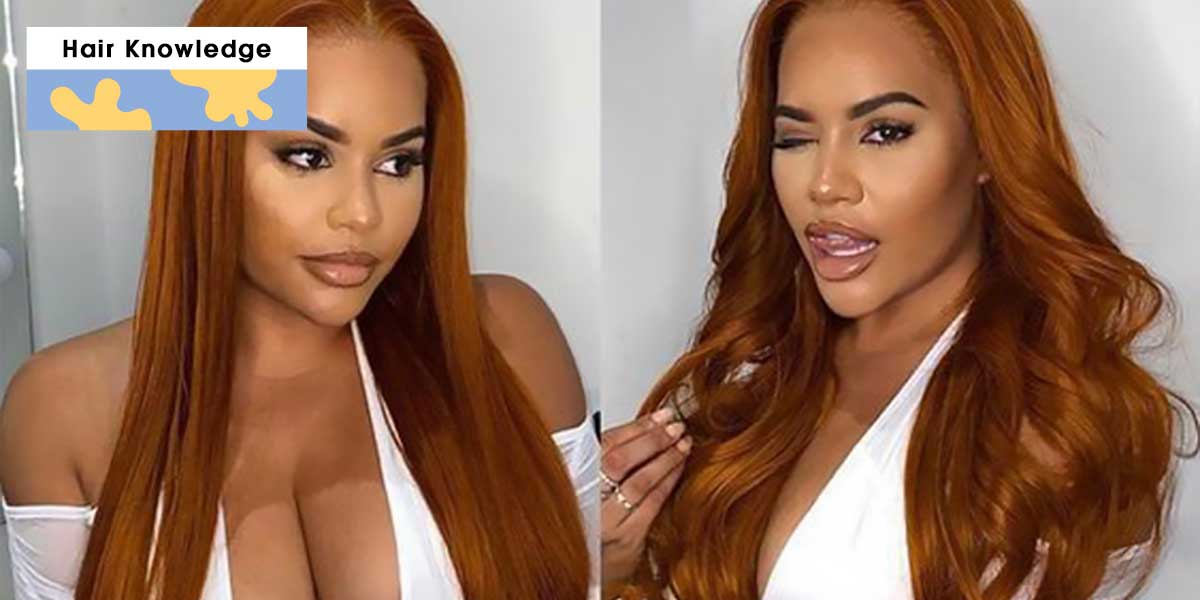 Wearing a wig can not only cover our hair problems and protect our natural hairline but also can change our outlook instantly. But, if you want to buy a colored lace front wig, the color of the wig is very important. If you choose a wig that does not suit you, the wearing effect will be very terrible. So, how to choose a colored lace front wig that suits your skin tone? And if I buy a colorful wig, how to install it? Let's get started.
What are colored lace front wigs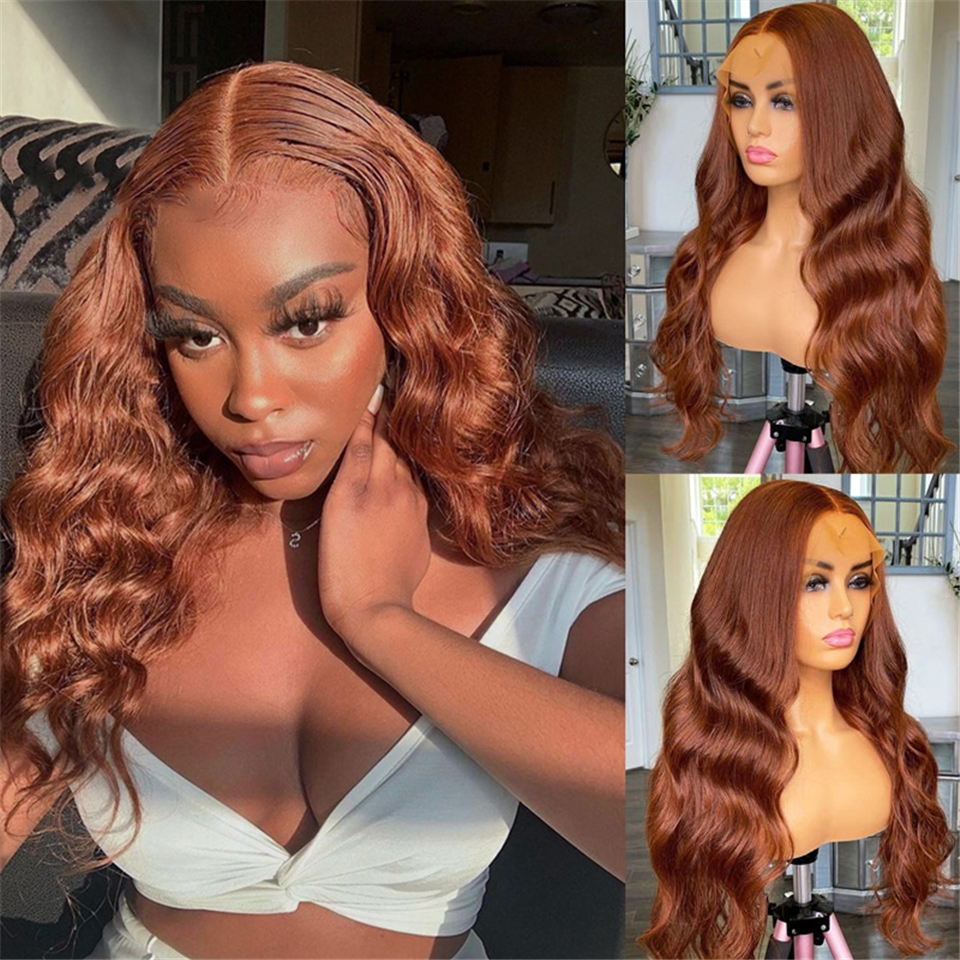 Colored lace front wigs have become more and more popular nowadays. Since the lace front wig entered the market, it has been the most popular type of wig. The lace frontal wig only has a little part on the front that is made of lace, which can largely reduce the price of the lace wig, if you want to buy a lace frontal wig, only need about 100 dollars. And you can get a beautiful and silky human hair wig.
Colored lace front wig is a wig in that we dye the color on the human hair wig, the hair is 100% human natural hair, even a colorful wig, can also achieve the best effect and make sure the hair is also smooth and soft after dyeing it. If you ever dye your own hair, you will know that your hair will become dry and yellow, because dyeing hair will cause large harm to your hair. Wearing a wig can help you reduce the risk of hair loss and scalp damage. If you want to change your hair color, you can try our bgmgirl hair colored lace front wigs.
What color colored lace front wigs look best on my skin tone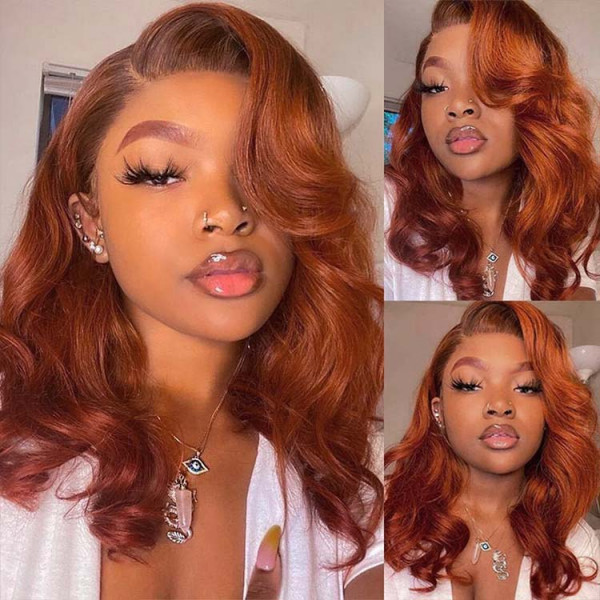 Different people suit different colors of hair because everyone is different. They have different skin tones, pupil colors, face shapes, and temperaments. You must choose the hair color according to these features. And now, you should figure out these features about yourself.
1. What skin tone am I, what pupil colors of your eyes, the color can decide what color suit you directly. Because these colors are close to your hair, can directly influence the whole effect of your wig color.
2. Choose a wig texture that suits your skin tone. Different wig textures can create different wearing experiences, different color wigs with different textures may cause many different felling.
3. Feeling confident every day. You must trust you are the most beautiful woman, hold your head up high and make your colorful wig look even more flattering.
4. Dress combinations can also affect the effect of hair color. You can learn some dress combinations knowledge and make sure you can get a better wearing effect.
What is my skin tone?
There are three types of skin tones: warm, cool, and neutral
Look at your face, if your face is yellow, black, or a little yellow, your skin tone is warm and dark. If your face color is light pink or olive, your skin tone is neutral. If your skin is white, your skin tone is cool.
This is the first step to choosing a colorful wig that suits you, if you want a perfect wearing effect, you should figure out what skin tone it is and choose the color according to your skin tone. If you are not sure about it, you can ask your friends, I'm sure they will give you an accurate answer.
Top 3 colored lace front wigs that can look best on you
NO.1

Sparkle pink root body wave colored lace front wig
Suitable skin tone: all skin tones
Face shape: long face, heart face, pear face, and diamond face
Costume matching: you can wear a black leather coat just like the model drawing, it's cool and personality. This colored lace front wig is black and pink and suits a costume that is not high profile, you can choose the clothes in black, white, and grey. Although the large part of the wig is black, the top of the wig is pink, it's a wig that is very designed, so you don't need to wear colorful clothes.
Texture feature: the texture of this wig is body wave,it's a very mature hairstyle, suited for a woman who wants to have a personality and charming hairstyle.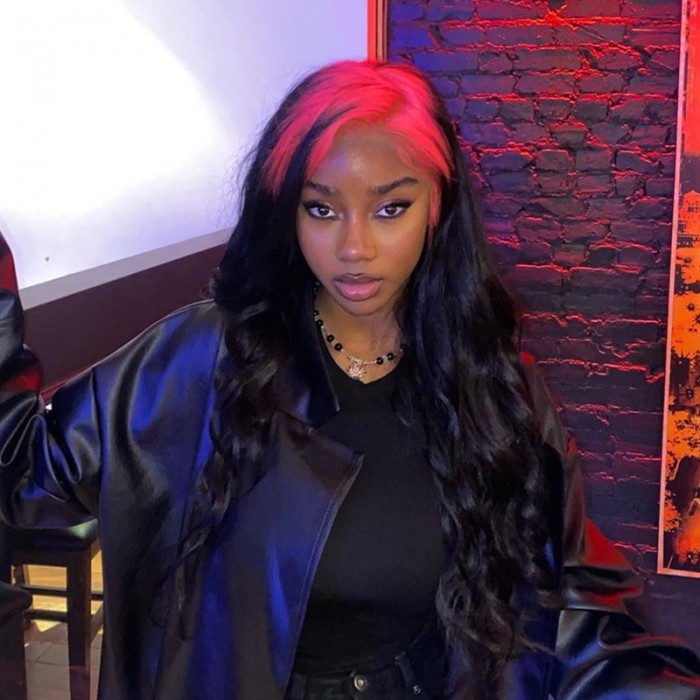 NO.2 99J Burgundy color water wave lace closure wig
Suitable skin tone: dark, neutral
Face shape: oval, round, diamond, heart, pear, and oblong.
Costume matching: if you buy this wig, you should match some costumes in white. The color of the wig itself is relatively dark. This is dark then red, so you should wear some bright color clothes to make a contrast to the wig color. So, I recommend you wear white.
Texture feature: water wave is a texture that is most popular in all wig textures. This wig almost suits for every people in every face shape.
NO.3

Honey blonde water wave lace front wig
Suitable skin tone: dark, warm, cool
Face shape: oval, round, diamond, heart, pear, and oblong.
Costume matching: this color can be all-matching; it can suit every color of clothes. if you want to buy this wig, you don't need to worry about what clothes you should buy. The blonde has many different types, such as honey blonde, strawberry blonde, and blonde. The Honey blonde and strawberry blonde are dark colors compared to the common blonde. The color of it easier to match the outfit.
Texture feature: this texture of the wig is water wave, combined with blonde color, which can be a very beautiful wig that suits most people's skin tone.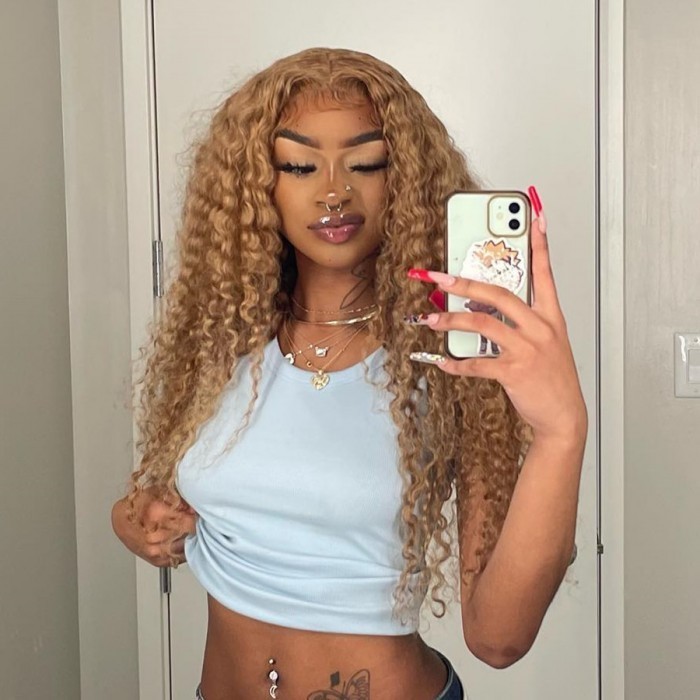 The colored lace front wigs for each skin tone
1. Highlight deep wave honey blonde lace closure wig
This wig is a colorful wig, but the wig is suited for everyone. If you want to buy a colored wig that not bright and shining, you can choose this one. The hair is combined with dark brown and light brown, suit for every skin tone and every face shape.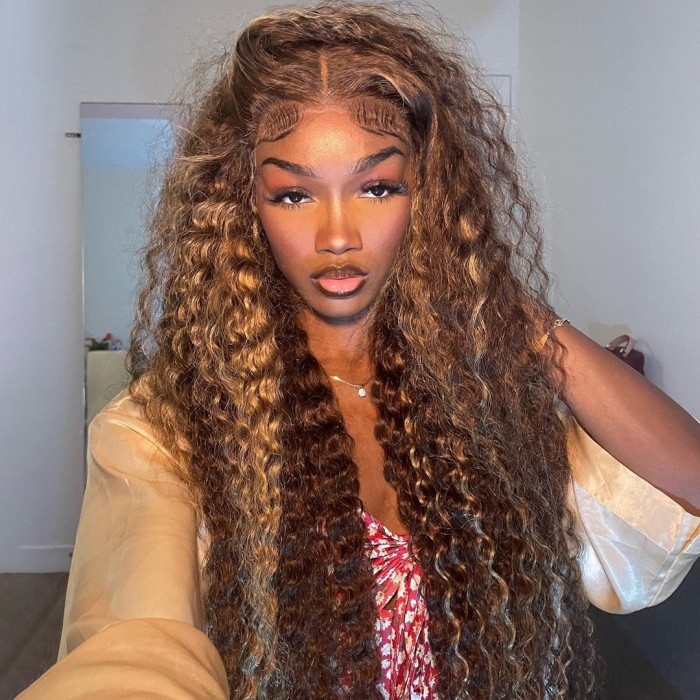 2. Ombre brown kinky curly lace front wig
It's a unique gradient of black and brown, perfect for everyday wear. Wearing it as if it were your own hair, it's very natural and not as dull as black hair, making it the best choice for most women who want colorful wigs.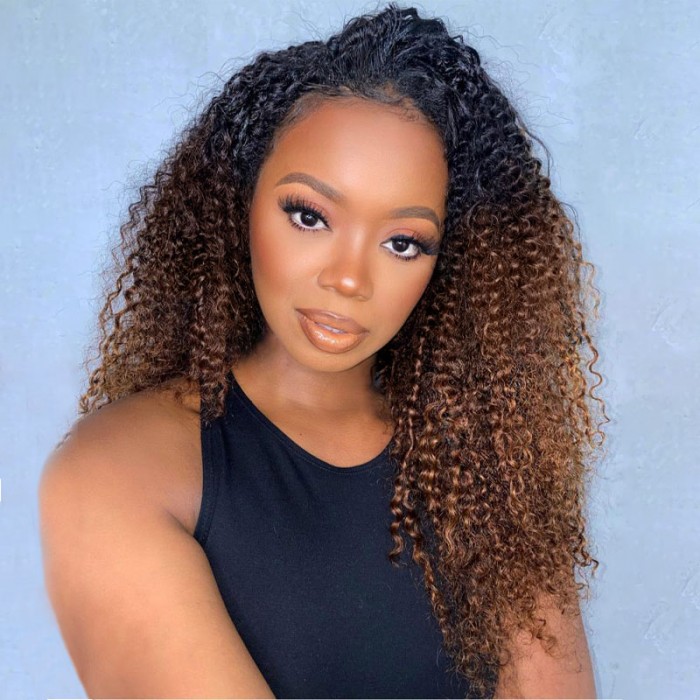 How to install colored lace front wigs
If you are a beginner in wigs, I recommend you choose a glueless wig. This wig is easy to install and the wearing effect is very natural and undetectable. You can achieve wear it and go in the morning, even if you need to catch the subway, you can wear it very quickly. You can watch this video and learn how to wear a colored glueless wig.
---
Final words
Now, you already know how to figure out your skin tone and how to choose the colored lace front wigs that suit your skin tone. And you can buy a colored lace front wig, try to change your outlook, and make a surprise for your friends!