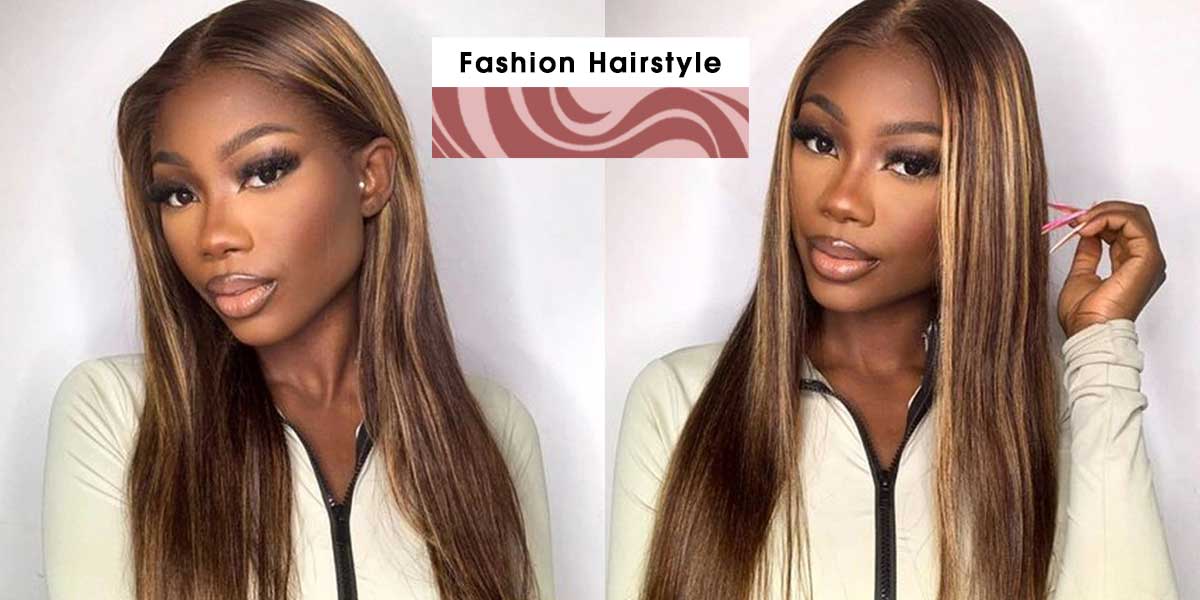 Can a wig make you look different? Sure, you can try the Brown Highlight Glueless Wig that have become so popular in recent years. The wig is usually made of two colors, interspersed like piano keys and the most important is that we don't need glue when we wear it. Wearing these wigs can change your appearance and help you create a more confident and energetic look.
Contents
1.What does highlight glueless wig mean?
2.Why are highlights glueless wig so popular now
3.The advantages of highlights glueless wig
4.What color highlights should I get?
5.Do highlights fade after washing hair?
6.Final words
What does highlight glueless wig mean?

Highlight wig, also called piano color wig, it is part of a variety of colored wigs. And it is the first colored Glueless wig. The wig is usually made up of two similar colors, one dark and one light, so that they match and look good together. The part that changes color looks like a highlight. That's why we call it "highlight wig" The two colors are usually the same color scheme or the similar color scheme, and highlights rarely use contrasting colors with very different colors. If you're prepare more dramatic colors and bold contrasting colors, try an ombre color wig.
Why are highlights glueless wig so popular now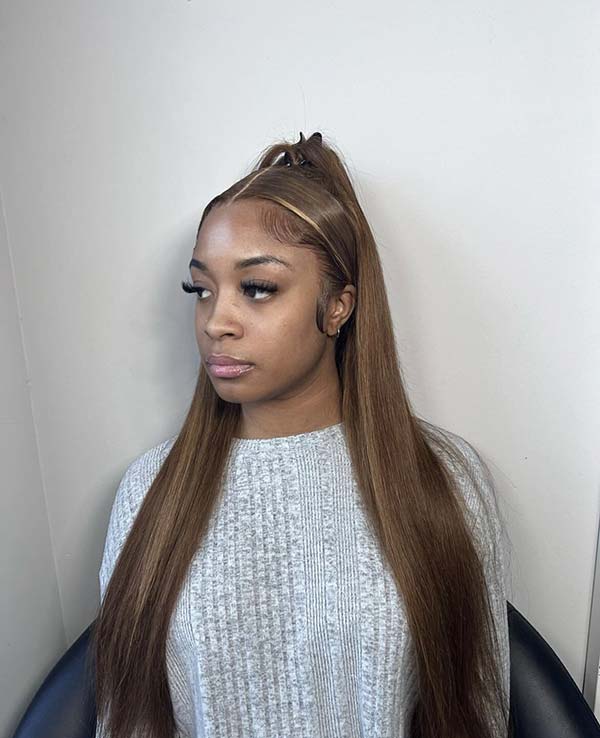 Highlights were already popular in the 1980s, thanks to the advent of foil. Using foil, people can do all kinds of styling on their hair. We all say that fashion is a cycle. What was popular decades ago is popular again now and loved by many people.
On the one hand, if you go to a barbershop to get highlights, the hairdresser can only according to your description or picture to get them done. Because some hairdressers have limited skills, they may not be able to achieve the effect you want. If you choose to buy a wig, you can choose the style and shape you like based on the picture to ensure that you are getting exactly what you want.
On the other hand, bleaching our hair is the most harmful to us, and harsh lotion can seriously damage our scalp. And there's a limit to how long you can keep the color on your hair. Dyed hair tends to fade quickly, in as little as a month. Even if it doesn't fade, you can't stop your hair from growing. Soon you will have a lot of black hair, black hair on top and highlights on the bottom, which will make you look very bad. Of course, you can also choose to go for a complementary color, but this will damage your scalp again. Therefore, if you choose Highlights Glueless Wig, it will give you the most convenient and fast experience while looking good.
The advantages of highlights glueless wig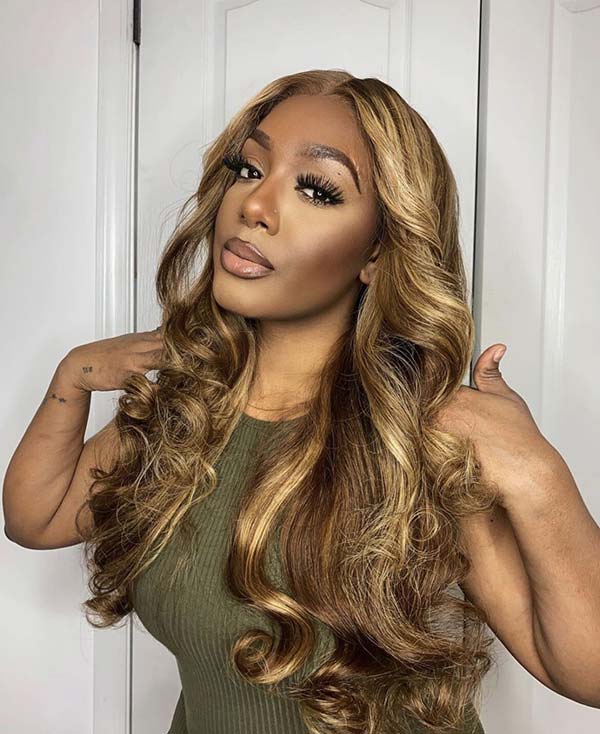 Highlights Glueless Wig can highlight the perfect shape of your face, even the slimmer ones. Because of the uniqueness of your hair color, people tend to focus on your face, and people are more likely to pay attention to your makeup, face shape, and hair curves. This style shows off the lines perfectly, giving the impression of depth and fullness. If you're a girl with a not so perfect face shape, don't worry. You can opt for a shaggy wig to cover up some of your face shape.
More fashionable
Compared to normal wigs, highlights are a little more fashionable. Because fashionable things must be special, special is that it is not only colorful, but also made of two colors. In line with the public aesthetic and fashion trends. And our wig is the first colored highlights glueless wig, and with it, you'll be on the cutting edge of fashion.
Makes you look younger
Among hair colors with highlights, brown highlight glueless wig is the most popular choice. Because this color can make you look young without exaggerating. If you have a darker complexion, a black wig will add to your poise, so try our brown highlight wig, which will brighten your complexion and leave you looking youthful and shining.
What color highlights should I get?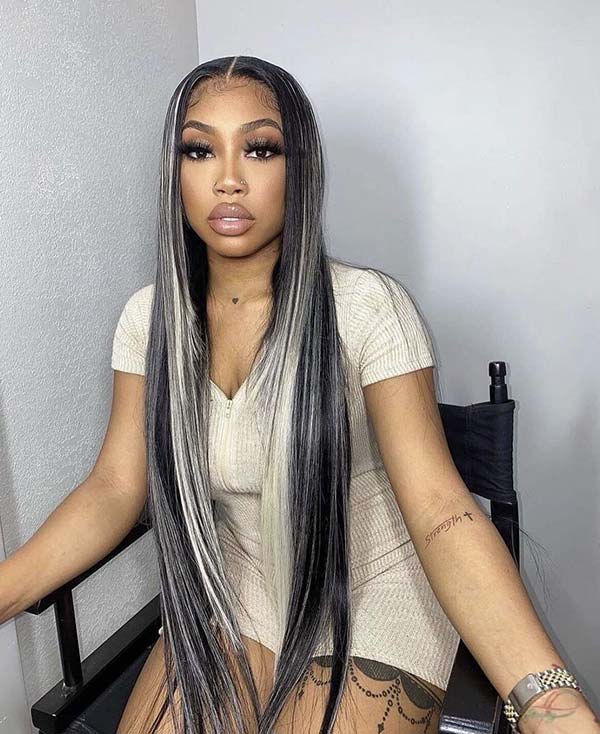 Brown
The least ostentatious choice of highlight wig color: Brown & Black Highlight
Hair color that most people like: Dark brown & Light brown Highlight
Silver
Understated yet individual highlight wig color: Silver & black Highlight
Stylish and bright highlight color: Silver & Brown Highlight
The way to pick a hair color is to choose a shade that is the opposite of your skin color. For example, if you have warm colors, you can opt for brown, silver color highlights. If you ask me for a recommendation, I think dark brown and light brown Highlight is suit for most people. You can buy one and try it on to see if it matches your style and skin tone.
Do highlights fade after washing hair?
Wig dyeing and we usually dye hair is the same, there will be fading problems. But if you have the right care, you can keep your wig shiny and shiny for a long time. If you want it to look like it doesn't fade, only choose synthetic hair. Synthetic hair is completely artificial and can be made in a variety of colors without fading because it is manufactured in this color. But synthetic hair has a fatal defect, that is, it is not as realistic as our natural hair, have a strong sense of plastic. If the wig color is faded, you can dye it directly on the wig. So, our real human hair is still your best choice, after all, it's realistic and doesn't hurt your own hair.
---
Final words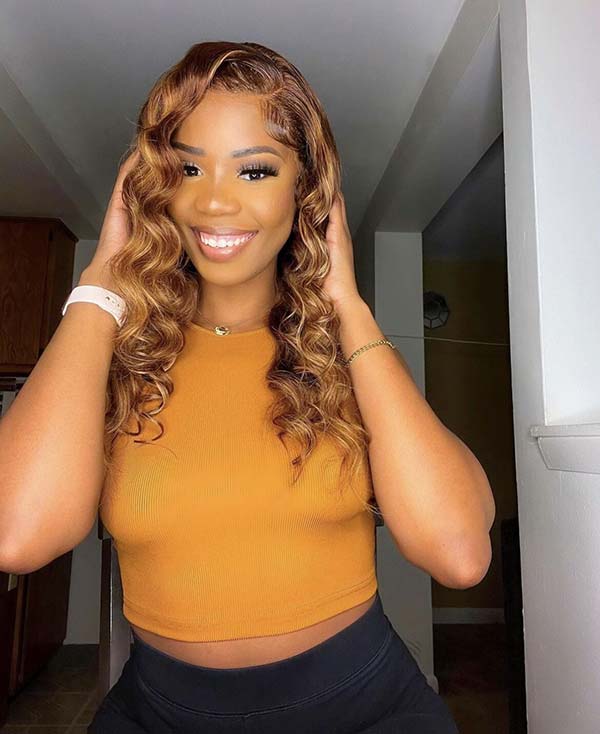 All in all, this is an infallible lace wig that combines the advantages of both colored wigs and glueless wigs, making it the first colored highlight glueless wig. If you haven't decided which wig to buy yet, this one is perfect for everyday wear and delicate styling. There is body wave, deep wave and straight for you to choose. If you want to be fashionable and energetic, don't keep your hair black all the time. Make a change to your appearance and it might make a difference.