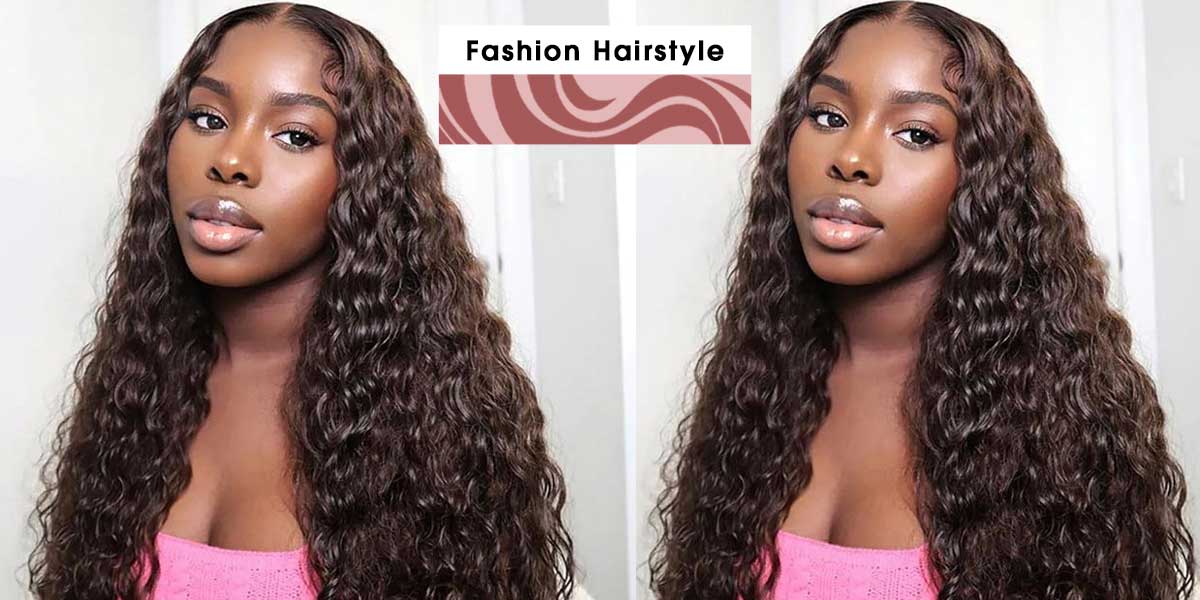 It is the alternating time between summer and autumn, so a must-have wig suit for this season must be the long brown wig! There are many types of long brown wigs, what's the difference between them? How can I choose a wig suit for me? In this post, you will get the answer.
Common long brown wig color types and differences
#4 Chestnut Brown
The color of the chestnut brown wig is just like its name, a deep and mysterious brown color. It's a blend of black and brown, to display a deep brown with black tones.
The color is relatively deeper than any other brown color, so it is the wig very suit for daily wear. The deep color will make you low-key on all occasions, and can unintentionally display your understated unique charm.
#33 Reddish Brown
Different from chestnut brown, reddish brown is a brown color that combined with brown and red. This color has no black tone, it is brown with an overall reddish tone.
This color is relatively personal because red is not an everyday hair color. But compared to red and burgundy, it creates a more low-key but with some personality color. Red with a brown tinge will not be as bright and vivid as positive red but will be essentially red, only less saturated. Reddish brown suits for the girl who thinks the chestnut brown is too boring and the highlight is too bright. After all, this is a color in between them.
4/27 Brown Highlight
This is a wig color that is combined with #4 and #27. This is not one color but two on a wig, they create alternate colors using #4 and #27.
What is the color of #27? You may know the color of blonde. #27 is a little deeper color than blonde color, just like the color of honey. Brown Highlight is the combination of these two colors. So, the original color has not changed, just put them together to create a highlight color.

The above three colors are arranged in order from dark to light, chestnut brown is the deepest, and brown highlight is the lightest, you can refer to the specific color of the picture. You can determine which wig is suited for you based on your everyday style or you can try all of them.
Why you must try BGMgirl long brown wig?
Pre-cut lace
About the wig lace, we update the 4×4 lace closure wig to the 4×6 lace, which can better wrap your scalp and not worry about whether the real hairline will expose or not. The more wrapped lace can allow you to change the hair parting freely, just move the hair part close to your ear to create a side part, and your natural hairline will not expose.
Pre-cutting the extra lace can save you time and energy to a large extent. Zigzag lace edges and arc compression technology can make the lace easier to melt with your skin.
Pre-treated lace edges can allow you to wear the wig quickly. Really glueless can achieve wear and go within 3 seconds.
More security wig cap
Update the old wig cap to a 3D dome cap, more breathable and comfortable. Unique mesh wig cap design, not bloated.
An adjustable band inside of the wig makes the wig more secure. Can be adjusted from 22 inches to 23 inches, better suited for girls with different head sizes.
Pre-plucked hairline
Pre-plucked hairline, closer to our real scalp. The true degree of the hairline can reach 95%, completely imitating the law of human hair growth, the density from sparse to dense, creating a natural hairline.
High-quality 100% human hair
Not only pre-styled with an exquisite appearance but also smooth and soft. 100% human natural hair, can be bleached and dyed, meeting the needs of a wide variety of shapes.
Real hair is relatively easy to take care of, and friendly to wig beginners, the daily care steps are very simple, only need to pay attention when cleaning, and you can always keep the wig as good as new, which is also the biggest advantage of real hair.
Hot sale long brown wig in BGMgirl Hair
1. Chestnut Brown #4 Body Wave 13*4 Lace Front Wig
Hair type: Lace front wig
Hair texture: body wave
Lace size: 13×4 Transparent lace frontal
Hair color: #4 chestnut brown
Hair length: 18inch
Hair density: 150%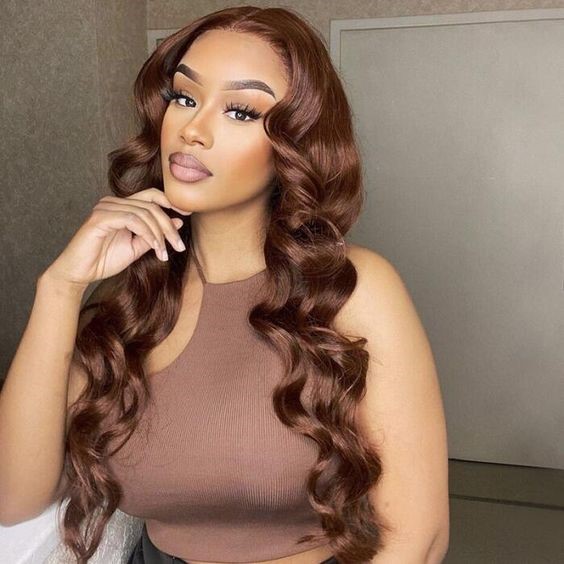 2. Reddish Brown Wear & Go Glueless Lace Closure Wig
Hair type: Glueless lace closure wig
Hair texture: Straight
Lace size: 4×6 pre-cut HD Swiss lace
Hair color: #33 reddish brown
Hair length: 10inch-28inch
Hair density: 180%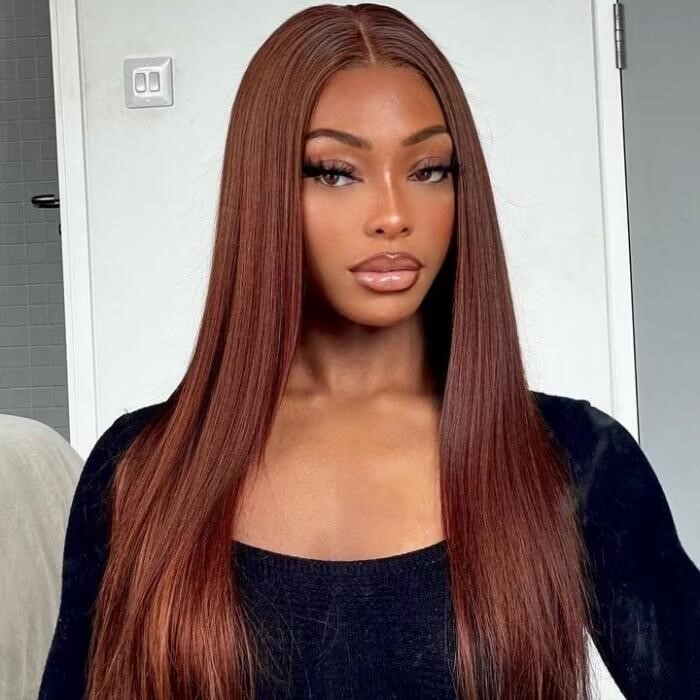 3. Brown Highlight Kinky Curly Wear & Go Glueless Wig
Hair type: Glueless lace closure wig
Hair texture: Kinky curly
Lace size: 4×6 pre-cut HD Swiss lace
Hair color: 4/27 brown highlight
Hair length: 16inch
Hair density: 180%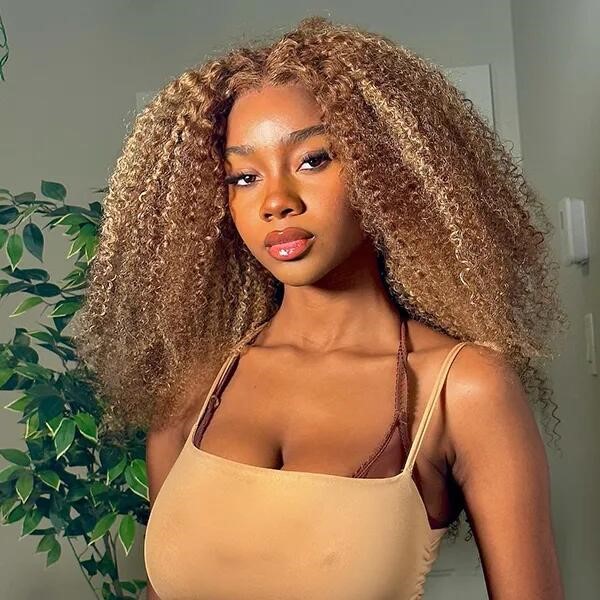 BGMgirl long brown wig real customer review
---
Final words
Choosing a BGMgirl Hair wig means that you will have the most perfect shopping experience, the most intimate service, and the strongest quality assurance. A long brown wig is a must-have human hair wig for every girl, so pick the one that suits you best.