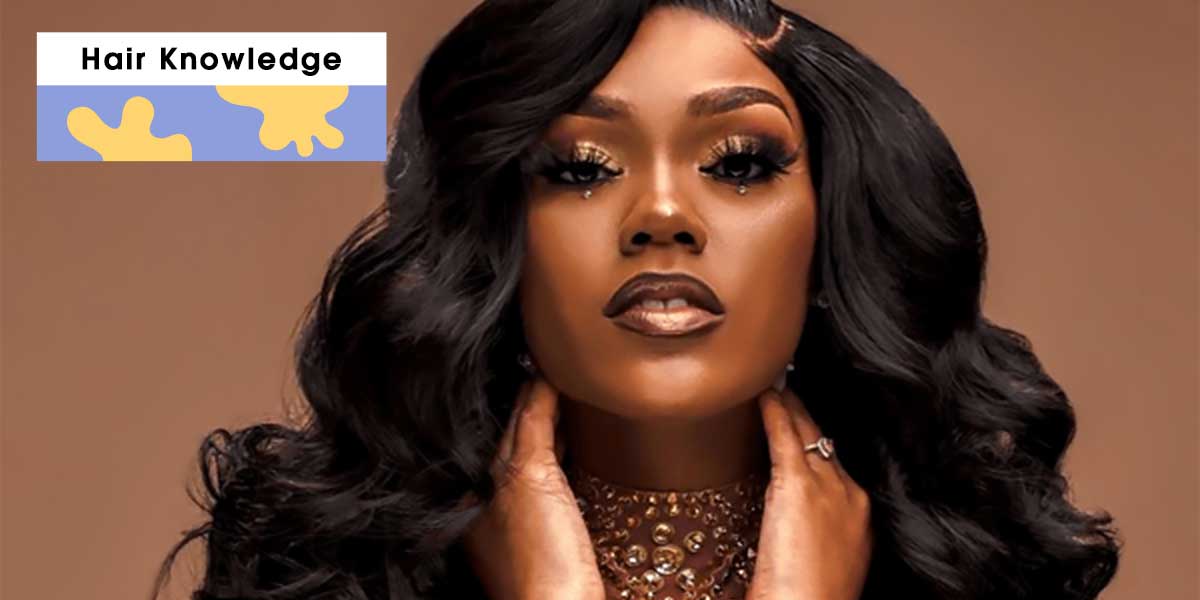 Weave vs wig: which is better? This is a frequently asked question that every wig beginner will ask. This question is actually very simple, you just need to read this article carefully, and it will help you out. If you want to choose between weave and wig, you'll need to consider usability, fit, budget, and wear effect. Here's a look at how weave and wig compare in detail.
What is a weave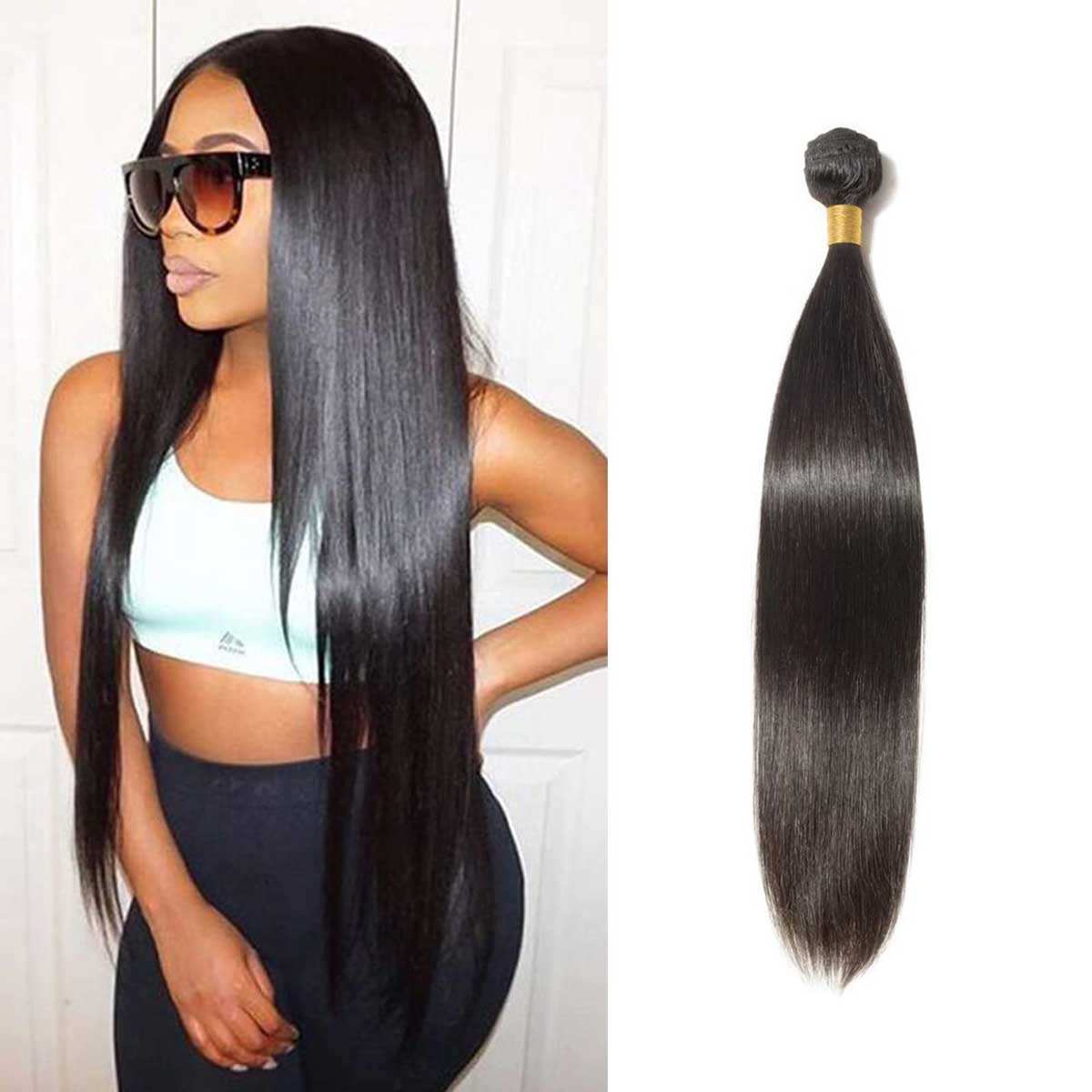 The weave is a wig piece that is used to add length, and volume, and make verities styling to your real hair in the form of wig pieces. Generally speaking, buying bundles yourself and going to a barber shop or getting hair extensions from a professional is the lowest cost and most effective. The most important thing to note with weave is that the hair you buy must match the color and pattern of your natural hair to create the most realistic effect. For example, if you have brown hair and it's very straight, you can't go for curly black hair.
Weave also has a wide selection of textures and lengths to choose from. The most popular textures for weave hair extensions are straight and natural waves. Other textures of fit may not be as high as these two, you need to tidy up a little, the effect is very good.
What is a wig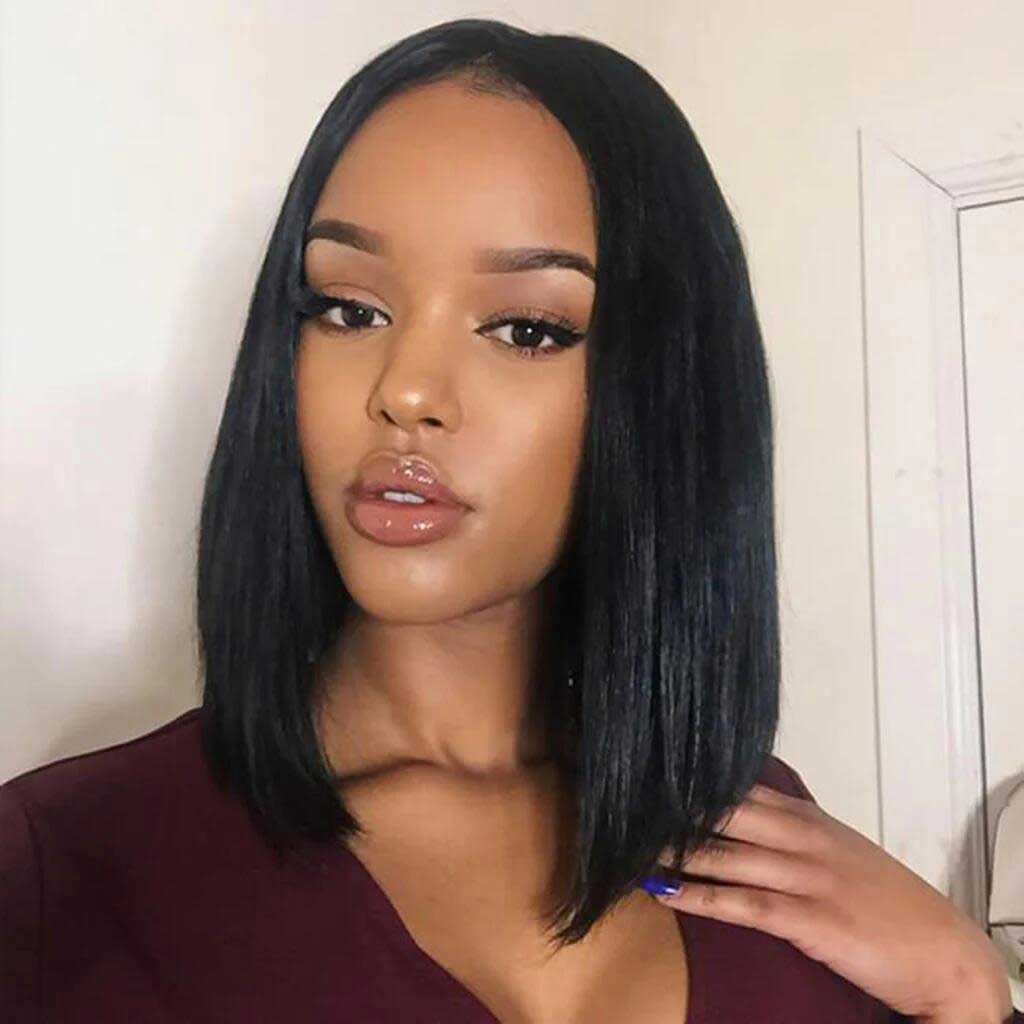 A wig is a kind of hair set into a wig cap to form a wig cap with a rich amount of hair. You can wear it directly on your head to completely cover your original hair. People often wear wigs to cover their hair health problems, such as hair loss, grey hair, baldness, and so on. Or use wigs to change their look and appearance.
Wigs are mostly divided into two types, one is human hair wigs, and other synthetic mechanism hair. Both kinds of wigs have their advantages: human hair is soft and realistic but slightly more expensive, while synthetic hair is hard but cheaper. In these two kinds of wigs, the majority of people choose real human hair, because most people buy wigs for daily wear, the natural realistic effect of real hair is not able to do chemical fiber hair. In our bgmgirl hair store, most of the wig that we sell is human hair wig, and all the wig is 100% human hair made, which can ensure the best quality.
There are a lot of different types of wigs, such as glueless wig, it's a wig that doesn't need glue to fix the lace on your head, which is very fast and convenient. 13×4 Lace frontal wig that needs glue: it's a wig made of high-quality lace and only the front part of the wig cap is made of lace, which can save the most money and give you a better wearing effect. Full lace wig: this wig's wig cap is all made of lace, but this kind of wig is not popular among women, because the price of the full lace wig is usually very high.
Difference between weave and wig
There are many differences between weaves and wigs, by comparing all aspects, including usability, fit, budget, and wear effect, you can clearly see the advantages and disadvantages of each product.
Pros of hair weave
Sturdy: Compared to wigs, the weave will last longer and stay firmly on your head. Because it attaches directly to your hair, you can wash it and then carefully blow dry it, which means you can take it swimming or any other activity. The weave extensions do not require glue like the lace frontal wig that needs glue, so they do not have the problem of losing the glue after contact with water.
Can be worn for a long time: Traditional wigs need to be removed and cleaned after one to two weeks of wearing. It's not just the wig. Your natural hair needs cleaning, too. That's about as long as a traditional wig can go. After all, no one can go two weeks without washing their hair. But weave hair extensions don't have that problem. You can wear them with you to clean them, so they can last six to eight weeks or more.
Quick change of hairstyle: If you have short hair, are you struggling with the slow growth? weave extensions If you want to get your hair long quickly, opt for Weave, a quick and natural way to lengthen your hair. You can use weave to change the length of your hair, or create any style you want.
Cons of hair weave
Increase scalp burden: weave is designed to add threads directly to your natural hair, so it's bound to put some extra weight on your hair, unlike traditional wigs, which can be worn whole. The force point of these hair extensions is basically in a small cluster of hair, so it will cause a certain amount of hair involvement, long-term wearing will damage the scalp.
Can't wear it by yourself: Hair extensions are usually more complicated because they are done behind the head and there are so many details to take care of that it is impossible to do them yourself. So if you want to style your hair on the fly, it's usually impossible to do and you can't do it at home.
Expensive: Since weave extensions can't be done on your own, you'll need to visit a barber or get them done by a professional, which will be more expensive than buying a wig. And even if you go to the barbershop, the effect of hair extensions can be affected by whether the technique is professional or not.
Pros of wig
Easy to wear: Wigs are relatively easy to put on. You can put them on at home in front of a mirror. If you are a beginner at the wig, just watch some wig-wearing tutorials and blogs like What Is A Lace Front Wig And How To Wear It, you can quickly master the wig-wearing methods in several minutes.
Cheap: The price of the wig is relatively lower than weave hair extensions. All you have to spend is a wig, and when you buy a good wig, you can take it and wear it at home, saving yourself a lot of trouble. But hair extensions require a trip to the barber or a wig, which is expensive. If you're looking for value for money, a wig is a good choice.
Variable shape: you can choose every texture of the wig that you like, such as body wave, kinky curly, natural wig, and so on. If you want to wear a bob wig today and wear a straight bundles tomorrow, wigs can help you achieve this easily. Weave hair extensions, however, won't do the trick. They tend to stay in your hair for a long time. Weave extensions are for people who don't want to change a variety of styles for a long time.
Scalp protection: Wearing a wig is basically a harmless way to quickly change your hairstyle. The wig is worn whole on your head, like a hat, so it doesn't cause scalp damage. Hair extensions are pulled down by gravity, which can cause discomfort to the scalp for a long time.
Cons of wig
Keep out of water: The disadvantage of a wig is that it should not touch water when worn. Wigs should not be worn if you want to go swimming or do other activities that require contact with water. Glueless wigs fall off easily when swimming because they don't have strong anchors. Glue may break when a wig worn with glue touches water.
Need glue: Wigs are usually worn with glue, which can affect the health of your hairline, but if you're looking for a healthier wig, a glueless wig will do.
Need care: Unlike weave extensions, which only need to be worn on your head, wigs require frequent care and cleaning because of their size and exposure. But this is not a problem, carefully treat it on the line.
Wig vs weave how should I choose
Regarding which one to choose between weave and wig, you can comprehensively judge based on the advantages and disadvantages of the aforementioned weave and wig. Everything has two sides, and if you want its advantages, you must accept its disadvantages. I have listed their strengths and weaknesses in the table below for a clearer comparison. You can choose based on your preferences and their respective characteristics.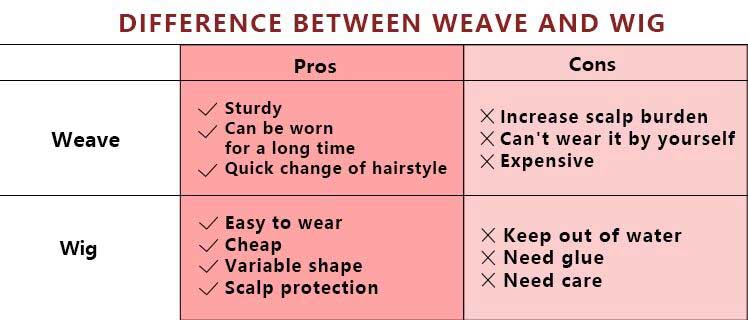 ---
Final words
Whether it's a weave or wig, there's always an audience for each product. You can choose from usability, fit, budget, wear effect, etc. If you have already decided, welcome to bgmgirl.com to choose the style you like.